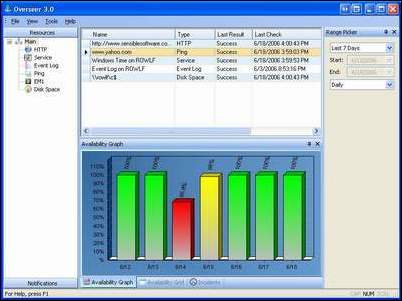 Rochester, NY (PRWEB) August 2, 2006 –-
Sensible Software Solutions announces the availability of the new version of their network monitoring software, Overseer Network Monitor 3.0. The software monitors critical IT resources, and notifies the administrator if a resource becomes unavailable, potentially saving the company thousands of dollars in downtime.
Overseer Network Monitor 3.0 runs on a Windows 2000/XP/2003 platform, and monitors a variety of important IT resources on all platforms, including routers, servers, websites, services, event logs, available disk space, environmental / temperature monitoring, and more. Notifications are sent via Email, cell phone text message, pager, or network message box(net send).
One of the most powerful new features is a strong programmer's interface (COM API). This enables programmers to integrate Overseer into their software, including ISP management software, help desk software, network management software, etc. Sensible Software is currently seeking integration partners to work together at integrating Overseer with these and other products.
Overseer Network Monitor 3.0 is available with a variety of licensing options. For companies with minimal resources to be monitored, Sensible Software Solutions offers a free and lite version of Overseer. Customers with greater needs can purchase software licenses in varying levels, starting at only $50.
About Sensible Software Solutions
Sensible Software Solutions is a software development company, founded in 2000. The company's primary software package is the Overseer Network Monitor, which was originally released in January 2004. Overseer is an award-winning product, designed primarily for Windows server and network monitoring.
For more information, please visit http://www.overseer-network-monitor.com/
# # #