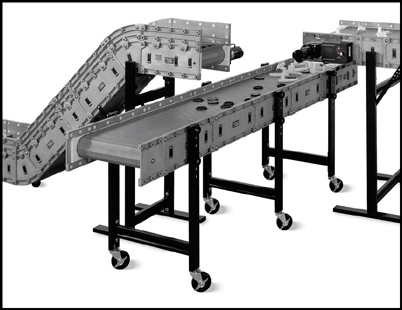 We can integrate whatever accessories that might come into play
Muskegon, MI (PRWEB) August 1, 2006
Sharp Packaging of Sussex, WI, who manufactures bagging machinery knows that quick and easy changing of the conveyor configuration would offer the flexibility and ease of reconfiguration their customers require to dramatically improve production or packaging flow and rapidly modify material handling schemes in order to handle more work.
One of Sharp Packaging's popular applications, equipment for the packaging of laundered shop towels used in the automotive service industry, requires a take-away conveyor that is "Z" shaped, a requirement in the industrial laundry market.
Typically, after the towels are washed and dried, they are put into slings and transported to a worktable where they are dumped into a big hopper, and then sorted by hand. A Sharp Packaging bagging machine heat-seals the reusable towels in plastic bag and then deposits it on the DynaCon system, which transports the bags upward onto a cart.
"Some of our customers want to change the length of their conveyor," says Tom Taylor Director of Machinery at Sharp Packaging, manufacturer of flexible packaging systems for pre-opened EZ-Bags(R) on a continuous roll, stretch sleeves and thermal imprint ribbon.
"Some need to make it longer, while others want to make it shorter. And they like the fact that the modular conveyor is a very flexible, very configurable system. They can practically reconfigure it on the fly."
Taylor explains that in the shop towel laundry business customers may need to lengthen or shorten the system because of space restrictions within the facility. For instance, sometimes something may be temporarily placed in the same area as the modular conveyors, or they might have to go over, under or around an obstacle (temporary or otherwise).
"Each system is modular, so if we decide we want to make the system a bit shorter, we just pull off the module and take off the amount of belting that we no longer need, and it's ready to go," Taylor says.
Because the laundered towels and packages travel uphill, it is necessary to put flights on the belts so products don't tumble downward. "We can integrate whatever accessories that might come into play," Taylor says, "and that gives us a lot of choices." He adds that the five-year warranty DynaCon system offers and responsive engineering assistance is a value added service that is very important to his customers.
"In the end, once a solution is evident, cost of ownership is the main question," Taylor says. "We needed to fit into a specific pricing structure, and Dynamic Conveyor offers the lowest cost of ownership plus the most flexible and reliable that we could find."
DynaCon modular conveyors are a great alternative to traditional heavy steel conveyor systems that require custom fabrication and cannot be modified without considerable expense. The DynaCon system is appropriate for today's manufacturing techniques, where work flows and material handling systems must be adaptable to ever-changing processes and product requirements.
Dynamic Conveyor Corporation
Jill Batka
5980 Grand Haven Road
Muskegon, MI 49441
Phone (800) 640-6850
Fax (231) 798-7739
Web site http://www.dynamicconveyor.com
###