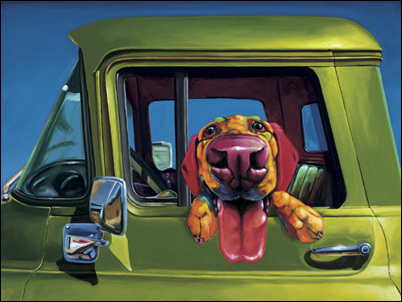 If I could clone myself three times over I might come close to giving the galleries and collectors what they'd like to have right now
Scottsdale, AZ (PRWEB) August 2, 2006 —
It's going to be a record-breaking year for pet spending. According to a report released on August 1 by the American Pet Products Manufacturers Association, consumer spending on pets has more than doubled from $17 billion in 1994 to an estimated $38.4 billion in 2006.
America's premier pet portraitist Ron Burns is struggling to keep up with the nation's love affair with its four-legged companions.
His brightly-hued commissions of beloved dogs run $25,000 to $120,000. Collectors are willing to wait up to a year for their commissioned work.
Even though Burns estimates painting some 40 original works per year he cannot keep up with gallery demand.
And in the past two years the number of galleries carrying his work in the U.S. and Canada has tripled.
Burns has been painting America's pets since the early 1990s and has never seen a market like this for animal art.
"If I could clone myself three times over I might come close to giving the galleries and collectors what they'd like to have right now," says Burns.
Even celebrities are not immune from the lure of immortalizing their favorite canines on canvas. In the past two years alone, Burns has painted the dogs of Hollywood legends including Elizabeth Taylor, Joan Rivers and Doc Severinsen.
Burns has even started a series of paintings for dogs themselves. Each painting features subject matter of special interest to canines such as fire hydrants, butterflies, chew toys and cats' hindquarters.
At $1100 each they've proven a popular item in Burns Scottsdale, AZ gallery, Vessley Fine Art.
Ron Burns has also used his success as an artist to benefit the lives of animals and has donated his artwork and talent to help raise millions of dollars in the cause of animal welfare. Among other affiliations he is the official artist in resident for the Humane Society of the United States.
For more information, please visit http://www.RonBurns.com.
###