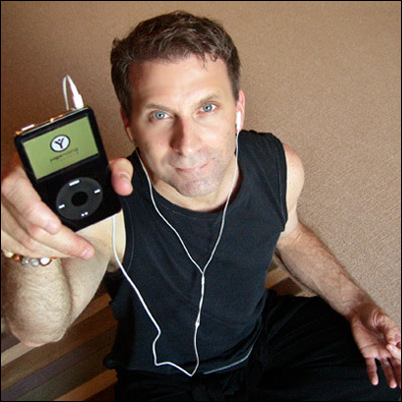 It's hard to believe that it all started with the YOGAmazing Video Podcast.
Louisville, KY (PRWEB) August 2, 2006
When YOGAmazing™ host/yoga instructor Chaz Rough began taping his weekly video podcasts in August of 2005 at the request of his students, he had no idea that the sessions would become the world's most widely viewed weekly yoga podcast. He certainly had no inkling that a yoga program could build a global following from Louisville, Kentucky, instead of from southern California or India, where yoga enjoys a stronger foothold than in the midwest. He definitely didn't expect the program to have been downloaded over one million times in less than a year. Yet, when the total downloads reached that landmark number on August 1, 2006, the YOGAmazing Video Podcast had grown a global audience in twenty countries to become one of iTunes' top health Podcasts, consistently averaging fifty thousand downloads each week.
Rough, whose Yoga for the Kid in All of Us DVD was highly praised by the editors of Yoga Journal, is pleasantly surprised by the fact that he's now the host of the world's most watched weekly yoga podcast, but credits its success to a unique approach. Unlike most such instructional video, the podcast is shot from the teacher's vantage point, and features actual students in action. In addition, Rough strives to make yoga accessible to the masses with his simple, down to earth approach and his readily apparent sense of humor, something not always found in traditional yoga instruction. Each twenty to twenty-five minute podcast is based on a specific need or question posed via e-mail by viewers worldwide regarding different aspects and facets of yoga practice.
The popularity of the YOGAmazing podcast has attracted the attention of national sponsors, such as ZonePerfect nutrition bars and several other major media/enterntainment companies. Rough hopes that increased corporate support will allow him to broaden his free podcast offerings to include more of his yoga-focused documentaries and interviews, nutrition programs, and guided meditations. A series of YOGAmazing DVDs are also planned in the near future.
"I've had so many people from around the world e-mail me, telling me how this podcast has changed their lives for the better, making them healthier and happier individuals," says Rough. "Their gift has become my gift; I do the podcast because it's my passion, and I feel blessed to have a global family that I speak and interact with on a weekly basis. The YOGAmazing Podcast has helped me to truly understand what it means to give of oneself. This is yoga in action."
Rough's background in interactive marketing and advertising, and the success of the YOGAmazing Video Podcast, has also enabled him to launch a new company called PodFactory.net. He currently creates and produces Podcasts for such companies as Churchill Downs, Inc. (home of the Kentucky Derby) and Bionic Gloves (owned by Hillerich & Bradsby), and interest in the growing power of the new technology has led to guest speaker engagements for Ad Clubs and Conferences in other markets like Boston and Cincinnati. "It's hard to believe that it all started with the YOGAmazing Video Podcast."
Chaz Rough is available for interviews. Contact him directly at (502) 387-6152.
# # #