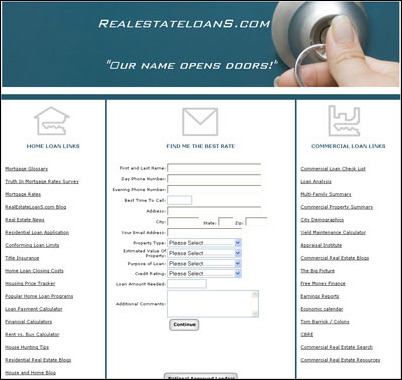 Long Beach, CA (PRWEB) August 2, 2006
The beginning of July saw mortgage rates reaching four-year highs. The increasing rates have contributed to the normalizing market. As a result, homeowners that are thinking of refinancing or prospective homeowners are better off shopping a lot of lenders to find the best rates.
RealestateloanS.com offers a solution for those that are looking for the competitive home purchase loans or refinance loans, but simply don't have the time or resources to do it themselves.
RealestateloanS.com is a mortgage clearinghouse whose sole purpose is to find the best rates for its clients for FHA, zero down payment, sub-prime loans and more. They do this by searching the hundreds of lenders everyday. With one of the largest networks of real estate lenders and independent loan consultants in the country, their search can save current homeowners or prospective buyers thousands of dollars. Gil Kerbashian of RealestateloanS.com explains the common pitfall that most consumers find themselves in when shopping for home loans or commercial financing, "Most consumers believe all banks are the same.
It's just not so. Many are not able to manage the different lending products offered by investors so they choose not to offer some loans. And because the bank's loan officer can't offer the product, the bank client never see's the option." RealestateloanS.com massive network of lenders is the solution to avoid being pigeon-holed into what an individual bank can offer. The results are affordable home purchase loans and refinance loans that are tailored to their clients.
Kerbashian explains, "Our company is positioned with a birds-eye view of what the industry is doing. We act as a mortgage clearinghouse. Everyday we look at hundreds and hundreds of rates and see who nationally is offering the best terms. We offer that insider knowledge to our clients so that they receive access to the best terms the real estate loan industry has to offer."
RealestateloanS.com's specialties are not limited to affordable home purchase loans either; they also offer apartment mortgage loans and other commercial real estate coverage. There website is also a great resource for learning the process of finding all types of home and commercial loans with a vast array of programs, from conventional conforming to jumbo, from zero down to no documentation. They have great tools like the Rent vs. Buy Calculator, the Yield Maintenance Calculator, and the Loan Payment Calculator. They also keep their clients in the know with the extensive and helpful Mortgage Glossary that clears up any confusion about all of the terminology that is specific to the industry. With sections on both Home Loan Links and Commercial Loan Links, RealestateloanS.com encourages its customers to become educated on what they are looking for, whether its home or apartment loans, Freddie Mac or Fannie Mae loans online.
For more information on affordable home purchase loans or commercial loans, please visit RealestateloanS.com.
About RealestateloanS.com:
A clearinghouse for mortgages, RealestateloanS.com is one of the largest networks of lenders and individual loan consultants in the country. They search rates daily to attain the best rate for their customers who may be interested in FHA loans, interest only loans, piggyback loans and more.
###