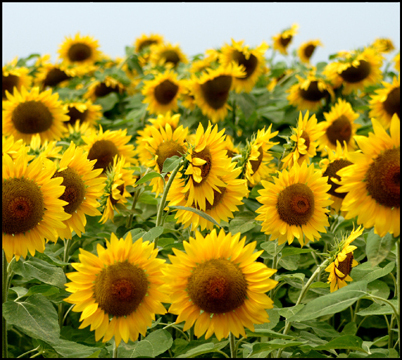 Now we don't have the plane cost
Yuma, CO (PRWEB) August 8, 2006
When asked about threats to crops, sunflower growers will immediately tell you about a little moth peculiar to sunflower fields. So peculiar, in fact, that the plant is right in its name: the Banded Sunflower Moth, also known as the Sunflower Head Moth. This notorious pest, innocently appearing as a small, straw-colored moth with darker triangle shapes on its wings, produces larvae which feed directly on the seeds and the florets of the flower, and if not controlled or eliminated can destroy the better part of a crop. Because of the moth's life cycle, it must be exterminated at an exact time of the year, usually in early July when the moths are laying eggs on the immature blooms.
Chemigation, the technology of the precise metering and in this case, applying a crop specific insecticide through an irrigation system, has proven the most effective answer to this problem.
"When the Sunflower Head Moth starts flying and laying eggs, that's when you hit it," says Earl Jesse, a farmer in Akron, Colorado. Prior to that point, it is buried in the soil and very hard to find, and afterward, when larva begin invading the head, it is too late.
Prior to using this method, insecticide for this moth had to be sprayed from a crop-dusting plane. Not only did this involve the cost of the plane, but the plane might not be available at the exact time needed. Spraying from a plane also allows for the chemical to drift, possibly not obtaining every target, and also bringing about the danger of environmental harm.
Jesse has found it to be an efficient and cost-effective solution to this pest. "Now we don't have the plane cost," Jesse says. "And we can also time it closer to when you need it. You can do it when you want to." He also finds the precision to be very beneficial. "The chemigation unit is really accurate. I really like that about it," he says.
Jesse utilizes the products from Agri-Inject, Incorporated, of Yuma, Colorado. These products are known for their extreme accuracy in metering out chemicals, for their ease-of-use, and for their robust and long-lasting construction. They allow precise application of chemical exactly where and when needed.
Another crop-specific pest Jesse has had to deal with is the root-worm and the root-worm beetle, one being the larva of the other and both being extremely harmful to corn. Again, insecticide has to be applied at an exact time. "When we start seeing root-worms larvae, that's when we have to apply chemigation to them. A little later, when the beetles show up, you have to get them, too."
There are many other crop-specific applications, such as insecticide for control of the Western Bean Cutworm and copper fungicide, both applied to beans, and precise fertilization requirements for potatoes. All of these are time-critical with narrow windows in which to get chemical or fertilizer applied.
Jesse has been very satisfied with the chemigation products from Agri-Inject. "We've had really good service from them," he says. "In addition to these systems, we also have two of their fertigation systems, and they do a good job and they're very accurate."
For more information about this article or chemigation and fertigation systems, call Arnold Page at Agri-Inject at 1-800-446-5328, 5500 East Highway 34, Yuma, Colorado 80759, email or visit their website at http://www.agri-inject.com to locate a dealer near you.
###