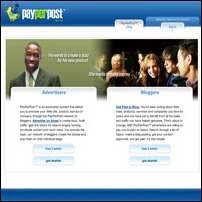 I have already seen a significant increase in traffic from blogs and search engines.
Orlando, FL (PRWEB) August 8, 2006
PayPerPost.com, the world's first Consumer Generated Advertising Network, announced today that it has signed up over 500 online advertisers in its first five weeks of operation. The company, which pays bloggers to provide their opinion about products and services, has exploded despite the controversy surrounding its approach to online advertising.
"We are completely redefining the concept of online advertising," stated Ted Murphy, founder and CEO of PayPerPost. "In the past, online advertising was all about leveraging big media buys with repetitive advertisements and messaging created by a company. We have successfully demonstrated to our online advertisers that smaller investments in unique, consumer generated advertising can provide far greater value."
"I love the way that individual bloggers actually review my products and post their own opinions online with relevant keyword text hyperlinks to my product pages. PayPerPost.com advertising, either positive or negative, is far more valuable than an anonymous hyperlink to my store with little or no explanation," said Teri Fritts, a PayPerPost.com advertiser and founder of AliceAccents.com. "I have already seen a significant increase in traffic from blogs and search engines."
The majority of PayPerPost.com's initial advertisers have been small and medium-sized businesses. "We believe our business will mature much like search engine marketing and online advertising in general has. Smaller companies usually lead the way for larger companies who tend to jump in once a medium has gone mainstream," commented Murphy. "It's not a question of if big brands will implement large scale consumer generated advertising campaigns, it is a question of when."
PayPerPost believes it can double the size of its online advertising network in the coming month. Adoption of the service has exceeded the company's initial expectations. Positive feedback on the Beta version of PayPerPost.com by online advertisers and bloggers has fueled its growth.
The company will be releasing a new version of the online advertising service within the coming week. Advertisers and bloggers can access the site at PayPerPost.com.
###