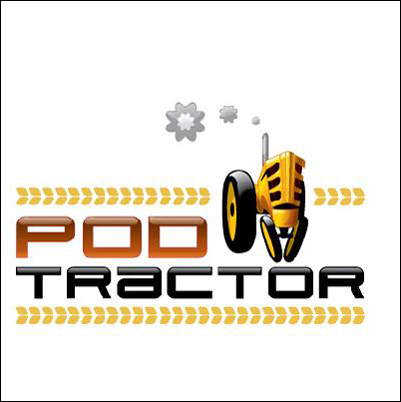 We couldn't find anyone offering this level of tracking, so we invented it
Lake Leelanau, MI (PRWEB) August 9, 2006
Oneupweb, an online marketing leader, launched PodTractor™ a revolutionary, hosted tracking technology that lets marketers measure podcast performance. Previously, marketers had to rely on less-than-accurate statistics from directories or server log files or even asking listeners to install software on their mobile players that would report usage back to the client.
"We couldn't find anyone offering this level of tracking, so we invented it," says Oneupweb CEO, Lisa Wehr. "In order to capitalize on podcasting, marketers need to know if they are reaching their target audience, if listeners are subscribing to the series and much more. PodTractor™ provides that data for podcasters."
Oneupweb is the only podcast producer offering this level of tracking (often called metrics or analytics), a critical component in the ongoing improvement of a podcast's value to its audience. And providing it automatically as part of production services is an added convenience for businesses who want a single podcasting source.
PodTractor™ is not coupled with an advertising service. By being independent, business podcasters don't have to offer ads to outside companies to get analytics. Or, they can offer ads without limiting their media packages to one prescribed model or directory client list.
With PodTractor™, producers and marketers can:
Track data rather than gut feelings
Inform management & minimize second guessing
Use strategic keywords to attract a larger, preferred audience
Use tracking for optimizing their podcast on search engine results pages
Coordinate pay-per-click or other advertising around popular podcast search terms
Consolidate their online marketing tracking in one place for greater consistency and accountability
Save time and costly duplication
Featured Data Includes:
Summary series and episode overview – month, day, week
Most popular series and episode – top downloads
Visitors & downloads – which domains visited and what each downloaded
Subscribers – non-subscriber downloads or dedicated subscriber
Position in top search engine results for keyword topics
Top podcast directory referrer – which directory is sending you the most listeners
Running trend graphs – week to week and month to month to demonstrate increased downloads, subscribers and position improvement
Visiting domains
Top converting keyword searches by directory
Loyalty tracking – organized by series and episode
Partial downloads vs. completed downloads – abandonment statistics
Number of subscribers by directory
"The marketing mix is broad and fragmented; resources are limited," says Wehr. "Marketers can't afford to spend time and money on a tactic, just in case it might work. If podcasts contribute a high return on the investment, companies need to know so they can continue that success with management's support.
"Metrics also allow more conservative marketers to enter the new world of podcasting faster," continues Wehr. "Instead of waiting for the success or failure of competitors' podcasts, our clients can confidently develop one-on-one dialogue with their customers."
While there are no current competitors to PodTractor's™ new acuity, several other types of organizations have attempted to provide podcast metrics, including directory sites, registration-based systems from hosting companies and even traditional media research or rating companies (i.e. Arbitron, Neilsen, etc.). All have come up short:
Directory sites are limited to their own audience, only providing limited data on users downloading from their site. Currently there are more than 25 substantial directories with about 5 clear leaders including Apple's iTunes. It's important to note that leading directories don't provide statistics, so relying on second-tier directories' stats would be to ignore a substantial part of the marketplace.
Registration-based systems are limited to listeners willing to download tracking software onto their personal devices. The most confident of these producers estimates that fewer than 25 percent of iPod users are willing to download the software. Providers of this service have yet to customize programming across multiple platforms, further limiting the data collection to a select group.
Media research firms have adapted their in-house meters for individuals using mobile devices. The hardware, about the size of a mobile phone, "hears" a coded sound in the podcast and records its usage. The audience is made up of individuals willing to carry the device during the day, returning it to a docking station that reports usage. As with TV ratings, these volunteers represent a limited slice of the marketplace that is willing to take the time to participate.
Wehr says, "Businesses, even those with podcasting experience, need to see what's working and what isn't. PodTractor is the only independent technology to provide marketers with this insight. It's a new day for podcasting and business."
About Oneupweb
Oneupweb has been an innovator in online marketing for more than a decade, creating integrated online marketing plans that include natural search engine optimization, paid search marketing, podcast production, online market research, marketing analytics and more. An award–winning firm, Oneupweb was named a 2006 Michigan Top 50 Company to Watch and is the only two–time winner of the prestigious ClickZ Best Search Engine Marketing Vendor Award. CEO, Lisa Wehr, an Ernst & Young Entrepreneur of the Year, has been named to BtoB Magazine's Who's Who List three years and is recognized as a Leader & Innovator by Lawrence Technological University. The company publishes an SEO / SEM newsletter Online Marketing Brief™ and a blog and weekly podcast named StraightUpSearch. Oneupweb is a privately held company located in Michigan. For more information on Oneupweb, please contact 231.256.9811 or visit Oneupweb.com.
# # #