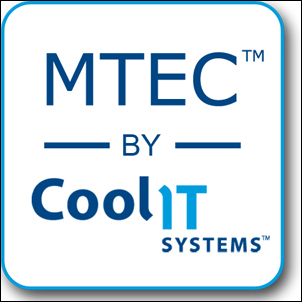 We are thrilled to be a technology provider to an industry leader in performance computing like Velocity Micro.
Calgary, AB (PRWEB) August 10, 2006
Today CoolIT Systems is proud to announce a new partner in performance computing. Velocity Micro has chosen to cool the blazing fast Intel Core 2 Extreme X6800 with a custom MTEC™ liquid chilled solution designed by CoolIT Systems. By combining the extreme cooling power of MTEC™ technology with the latest Intel processor, Velocity Micro overclocked the Core 2 Extreme X6800 from 2.93GHz up to 3.68GHz and as Rich Brown at Cnet.com said, "The Velocity Micro Raptor DCX delivers the fastest performance we've ever seen."
"Our customers expect the cutting edge experience we've made our reputation delivering," said Velocity Micro President and founder, Randy Copeland. "Giving that to customers requires the best technology available. The CoolIT MTEC cooling system allows us to push the envelope by extracting every last bit of performance from today's processors."
"At CoolIT, our mission is 100% focused on developing the next generation standard in liquid cooling technology," added CoolIT's CEO, Geoff Lyon. "We are thrilled to be a technology provider to an industry leader in performance computing like Velocity Micro."
In addition to being available directly from Velocity Micro's website (http://www.velocitymicro.com), Velocity Micro Core 2 Extreme – based systems can also be purchased immediately at http://www.BestBuy.com, either pre-configured or customized through the Best Buy-Velocity Micro build-to-order program. Core 2 Duo-based PCs are now available at select Best Buy retail stores across the country, giving tech-savvy customers convenient access to the latest in high-performance PCs.
About Velocity Micro, Inc.
Velocity Micro, Inc. is the premier high-performance personal computer provider in North America. Founded in 1992, Richmond, Va.-based Velocity Micro custom builds award winning gaming, mobile, multimedia, home office, and small business solutions. Velocity Micro systems are now available at Best Buy retail stores and http://www.bestbuy.com. For more information on Velocity Micro, please visit http://www.velocitymicro.com or call, toll-free, (800) 303-7866.
Velocity Micro has earned over 30 industry awards including eight PC Magazine "Editor's Choice Awards" and "Best of the Year" for both 2003 and 2004. Maximum PC, Mobile PC, PC World, Computer Gaming World, Computer Shopper, CNET, and PC Gamer editors have all chosen Velocity Micro systems as some of the industry's best performing, highest quality, and most reliable PCs.
About CoolIT Systems
CoolIT Systems has been working with industry leaders in the computer industry to research, design, and deliver next generation cooling products that provide a comprehensive solution while exceeding high OEM standards for reliability and maintenance-free operation. This carefully designed and patented MTEC™ technology unleashes the full potential of a PC, providing superior cooling performance while reducing system level noise and improving reliability of vital components.
###