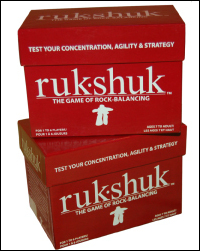 This is an original and highly intuitive game for people of all ages. Unlike a lot of games, an eight-year-old can play with, and beat, a 45-year-old.
Toronto, ON (PRWEB) August 10, 2006 –-
A brand new Canadian creation is bringing gaming back down to earth this summer. Rukshuk™ – 'The Game of Rock Balancing' is not only a refreshing departure from the high-tech world of video games dominating the current landscape, it also incorporates a global ecological theme.
Every Rukshuk™ rock formation, which players attempt to build by balancing specially-crafted game rocks, is named for a natural rock phenomenon somewhere on the planet – from Israel to Lebanon, the USA to Iran.
"Mother Nature has been building rock formations for a long time," explains Rukshuk™ creator Malcolm Bisiker. "People around the world have also built rock formations for cultural reasons and as landmarks for thousands of years. Rukshuk™ delivers this age-old idea in the form of an exciting, point-scoring game."
Rukshuk™, with a name that reflects the true Canadian tradition of Inukshuk, is a game of strategy and skill for all ages – addictive, in part, because of its sheer simplicity. Players race against the clock to build different Rukshuk™ rock formations by balancing their blindly-chosen game rocks. If a formation topples, it must be rebuilt quickly. Points are scored for each rock standing at the end of the allotted time, with bonus points added for the successful use of specific rocks, as well as the completion of the formation. The player with the highest score wins.
"This is an original and highly intuitive game for people of all ages. Unlike a lot of games, an eight-year-old can play with, and beat, a 45-year-old." says Mr. Bisiker. "Rukshuk™ is also unique in that it can be played by up to six teams at a get-together or by one person on a rainy day at the cottage."
Rukshuk™ was conceived in 1998 in a cafe in London, England, where Mr. Bisiker, a Toronto native, watched as a group of friends nearby attempted to stack sugar-cubes. He wondered what was so addictive about the balancing act, tried it himself and was instantly hooked. Rukshuk™ was born.
In January 2006, Mr. Bisiker, a CFA Charterholder (Chartered Financial Analyst), had a near-death experience in a British Columbia avalanche which served as a pressing reminder that "life is short". Consequently, he chose to take a break from his work as an analyst to launch a version of the balancing game that had captured his imagination all of those years ago.
Rukshuk™- The Game of Rock Balancing is now available in toy, game and gift stores across Canada and online at http://www.rukshuk.com. Rukshuk™ will also be featured at the upcoming CGTA Toronto Gift Show (Toronto International Centre, Aug. 13-16). Made in Canada, production is now running full time to keep up with overwhelmingly strong demand in the product's initial markets. The company recently signed its first major U.S. distribution agreement and, in keeping with its global theme, has plans to spread the game to all cor¬ners of the planet.
For more visit http://www.rukshuk.com. To hear more about Rukshuk™, or try it yourself, contact:
Zabazoo Corporation
Attn: Malcolm Bisiker
Ph: (416) 899-4606
###