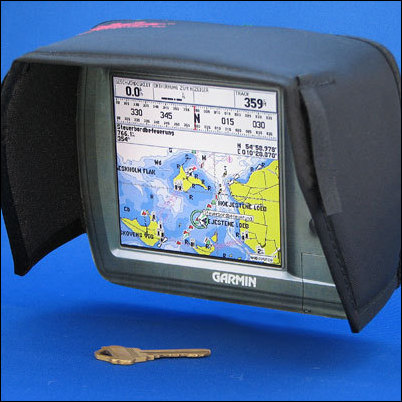 When you plunk down thousands of dollars for a chart plotter, you expect to be able to see the map display in the sunlight. That's exactly what we offer
Corona, CA (PRWEB) August 28, 2006
The So. California based makers of the original flexible sun visors for automotive GPS units (GlareStomper), has 'hit the water' by offering these sun blocking visors for the most popular chart-plotters, fish-finders, sounders and sonar units. "When you plunk down thousands of dollars for a chart plotter, you expect to be able to see the map display in the sunlight. That's exactly what we offer" said company founder Dave Reichert.
These smart looking flexible visors help prevent ambient light from 'washing out' LCD map displays. "Most GPS units suffer from this malady at some level" Mr. Reichert stated. The solution (marketed as the GlareStomper), helps prevent sunlight from striking the display from both the top and sides. "they're unique in that once installed on the unit, they don't need to be removed" (Editor's note: the visors fold flat when not in use and cause no interference with operation or storage of the unit).
"Many boaters appreciate the safety aspects of not having to reach over and shield their displays with their hat while under way". They won't cause injury or damage to your gear if boaters get tossed up againt them in rough seas.
The product is made in several layers, laminated onto a flexible foam core; they mate to special high temperature adhesive backed Velcro strips placed on the unit. Though easily removed if needed, the visors simply fold down over the display when not in use. The materials are 'RF' transparent, causing no interference with internal GPS antennas. Visors for the most popular Northstar, Furuno, Standard Horizon, Eagle, Lowrance, Navman and others are available now.
Until such time as fully daylight readable displays are available – the GlareStomper visor is an economical and highly effective solution. "they're truly a value added product... retailing for less than $30, they simply make your navigation unit usable again."
GlareStomper offers a generous dealer/reseller program. Inquiries are invited.
###