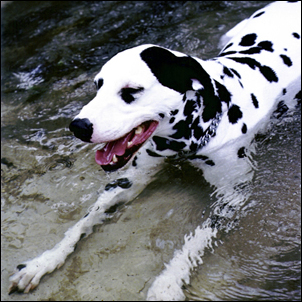 To best help your dogs handle the heat this summer
Riverside, CA (PRWEB) August 14, 2006
A Hot Car Can Kill.
Imagine this: You are walking through the mall parking lot when you see a dog locked in a car lying on its side panting heavily and looking ill. What do you do?
One good samaritan, Mary, called the mall security. At first the guard tried to notify the owner to come out to the car, but it was taking too long. Mary didn't know how long the dog would survive.
Finally Mary talked the guard into forcing the lock and opening the door.
That dog survived heatstroke because someone cared enough to get involved.
Exercise Can Kill
Max took his young bulldog, Oscar, outside to play one hot and muggy evening in July. After a 15-minute game of catch Oscar came back inside, drank some water and lay down on the floor.
Minutes later Max noticed that Oscar's chest was heaving, his mouth was gaping and his eyes were brick-red. All are signs of heatstroke.
Max responded immediately, wrapping cold, wet towels around Oscar, and changing them when they became warm. Now and then Max would scoop a handful of water and put it in Oscar's mouth.
At the vet soon afterwards Oscar was given a clean bill of health. Oscar survived because Max knew what to do.
Carol Stack of http://www.christysdogportal.com says we don't know how many dogs and cats die each year because of heatstroke. All it takes is a few minutes inside a baking car, exercising when it is too hot, or being left in a backyard with no protection from the sun.
She added, "It was partly because of these preventable situations that we wanted a web site for people who love their dogs. We wanted to provide them with the information they need to make their dogs thrive."
What You Can Do
What can you do to keep your dog healthy in summer heat? Fresh, cool water and shade are the two most important things for a dog that spends a lot of time outdoors. Dogs dehydrate very quickly and their water bowls need to be refilled several times a day with cool, fresh water.
Take your dog for walks and do any dog training during the cool times of the day.
Some Breeds at Greater Risk
Some dog breeds have more problems in the heat than others. Pugs, Boxers and other dogs with pushed up snouts have a tougher time in hot weather than others. They will need extra care to make sure they are kept comfortable and safe from the heat.
What if Your Dog Gets Heatstroke?
If you think your dog has heatstroke, get him or her to the vet immediately. Use cool water, not ice water, to cool your dog. Do not use really cold water as that will cause constriction of the blood vessels and slow down cooling.
If the dog's temperature is 103ºF or lower, do not aid cooling as some animals can get hypothermic.
"To best help your dogs handle the heat this summer," Carol cautioned, "keep them at home and not in a hot car. Make sure they have a steady supply of cool, fresh water and shade, provide them with air conditioning or a wading pool to keep cool in, decrease their amount of exertion, and exercise them in the cooler times of the day.
"Follow these simple steps and your dogs should have a happy, healthy summer. And be sure to visit our site for more information about heatstroke."
###