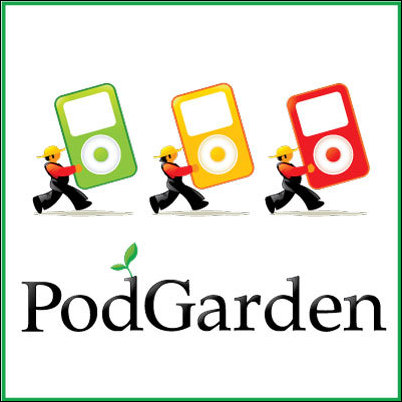 The rapid growth and popularity of podcasting in the corporate arena
Lake Leelanau, MI (PRWEB) August 14, 2006
Oneupweb, an online marketing leader, today announced the launch of PodGarden™ corporate podcast services now available from Oneupweb. PodGarden™ is a one-stop source for businesses looking for podcast design, production, optimization, hosting and tracking from a trusted leader in integrated online marketing.
Corporate podcasting represents new opportunities for businesses to reach a growing market. They're portable, personal and an increasingly popular way for business to begin a dialog with customers and stakeholders. Audiences are offered the convenience of downloading now and listening later – at the gym, in the car, on the train – whenever and wherever they choose. And with the recent introduction of podcast tracking by Oneupweb, corporate podcasters can now accurately assess the return on their investment in this new media.
"The corporate podcast is considerably different from the social podcasts frequently identified with the genre," notes Wehr. "With PodGarden™ we've put together a team that understands corporate online marketing first and foremost. It's just another arrow in the quiver for today's savvy marketer and we're pleased to provide the means to put it to work."
PodGarden™ services will include:
competitive review
hosting
content design and copywriting
voice talent and music
production recording and mixing
visual support design
media and directory submission
online optimization, promotion and press support
tracking and performance analysis.
To get this done, Oneupweb has assembled an award-winning team of broadcast producers, writers, designers, voice talent, media and pr professionals in the company's own state-of-the-art podcast recording studio.
"The rapid growth and popularity of podcasting in the corporate arena," notes Oneupweb CEO Lisa Wehr, "has made podcast services a logical extension of what we do. We are determined to stay ahead of the curve for our clients' online marketing efforts. Podcasting is definitely a rapidly growing, innovative way to initiate and sustain a dialog with busy information consumers."
More information about PodGarden™ podcasting services can be found at PodGarden.com or by calling toll free 1-877-568-7477.
About Oneupweb
Oneupweb has been an innovator in online marketing for more than a decade, creating integrated online marketing plans that include natural search engine optimization, paid search marketing, podcast production, online market research, marketing analytics and more. An award–winning firm, Oneupweb was named a 2006 Michigan Top 50 Company to Watch and is the only two–time winner of the prestigious ClickZ Best Search Engine Marketing Vendor Award. CEO, Lisa Wehr, an Ernst & Young Entrepreneur of the Year, has been named to BtoB Magazine's Who's Who List three years and is recognized as a Leader & Innovator by Lawrence Technological University. The company publishes an SEO / SEM newsletter Online Marketing Brief™ and a blog and weekly podcast named StraightUpSearch. Oneupweb is a privately held company located in Michigan. For more information on Oneupweb, please contact 231.256.9811 or visit Oneupweb.com.
# # #