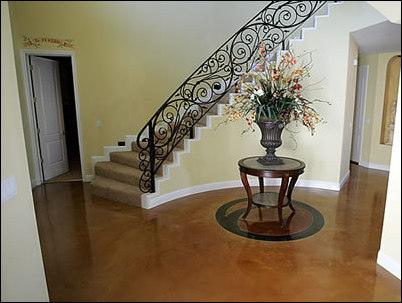 Yucaipa, CA (PRWEB) August 17, 2006 –-
If you're looking to permanently cover up surface imperfections in existing concrete, or turn a plain-jane slab from drab to fab, concrete overlays are the perfect option. With today's decorative overlays, it's easy to give almost any concrete surface, indoors or out, a complete face-lift—and at a much lower cost than removal and replacement. The real challenge is choosing from among the many resurfacing products available—and the diverse array of decorative finishes possible.
The Concrete Network, the largest and most comprehensive source for concrete information on the web, offers a guide to the different types of decorative concrete overlays available to homeowners, contractors and designers. There are four different types of concrete overlays to choose from which include: stampable overlays, microtoppings and skim coats, spray-down systems, and self-leveling overlays.
The characteristics of each type are highlighted, providing all of the necessary information to choose the right resurfacing system for their particular project. Selecting the most appropriate option often involves weighing performance attributes against aesthetic value. Although cement-based overlays have been around for decades, many of today's systems blend polymer resins with cement, sand, and other additives to improve performance, wear resistance, and aesthetic qualities.
A stamped overlay offers all the aesthetic benefits of conventional stamped concrete but is less time- and labor-intensive to install. The overlay mix is usually applied by a gauge rake (a tool with an adjustable depth gauge for achieving a uniform topping thickness) and then imprinted with stamping mats or texturing skins.
Ultra-thin microtoppings are applied by a trowel or squeegee in thin layers. They can go on silky smooth and can be taken down to a featheredge. Or you can apply several coats to create a textured broomed or troweled finish.
Spray-down systems offer a wide array of finish options. Usually they are sprayed evenly onto concrete with an air-powered hopper gun, but they can also be applied as a splatter coat to create a textured, slip-resistant surface.
Self-leveling toppings have the ability to self level without troweling, making them ideal for smoothing and leveling worn or uneven concrete surfaces. Installers simply pour or pump the material onto the surface and then use a spreader to distribute it evenly.
Established in 1999, The Concrete Network's purpose is to educate consumers, builders, and contractors on popular decorative techniques and applications including stamped concrete, stained concrete floors, concrete countertops, polished concrete, and much more. Over 872,000 visitors researched The Concrete Network Web site in June, 2006.
The site excels at connecting buyers with local contractors in their area through its Find-A-Contractor service. The service provides visitors with a list of decorative concrete contractors throughout the U.S. and Canada, and is fully searchable by 22 types of decorative concrete work and 199 metropolitan areas throughout North America.
Article photo courtesy of Bomanite Corporation. Attached photos courtesy of Concrete Solutions.
###