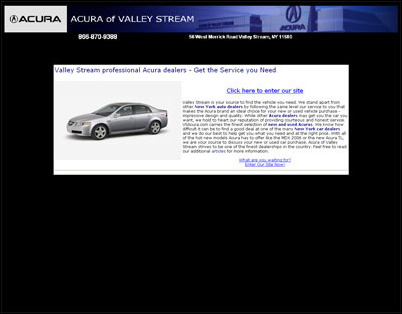 Valley Stream, NY (PRWEB) August 16, 2006
The buzz surrounding the Acura RDX has been ringing in the ears of car enthusiasts for some time now. Finally, the wait is over and the Acura RDX SUV has arrived and is available for a test drive at Acura of Valley Stream.
This latest innovation from Acura has groundbreaking features for the company. The RDX showcases a 240 HP turbocharged engine with Super Handling All Wheel Drive(SH-AWD) —the first ever to be found at any of the Acura dealers. This high-performance combination is complimented with the revolutionary storage solution that can safely lock a laptop computer in the front seat arm rest. Owners of new and used Acuras will not be surprised that the forward-thinking company has outfitted the sound system in the RDX with MP3 player integration, XM satellite radio, and a 410 Watt ELS Surround Sound Stereo System with both DVD and audio capability. In addition, the RDX SUV uses Bluetooth technology for telephone integration. And, to control fuel efficiency, a special monitor on the dash displays tire pressure, so drivers can be sure to cruise at the appropriate level to properly preserve their precious and expensive gas.
One of the pioneer new Acura dealers, Acura of Valley Stream has the RDX and the rest of the impressive 2007 model lineup on their lot and ready to test drive. Sales Manager, Steve Verga, is continually committed to the brand and what it stands for-- both to him and his customers, "We strive not to merely meet our clients' expectations, but to exceed them. The Acura ownership experience is more than just a world-class luxury vehicle; it's a dedication to quality, service and delighting our customers. At Acura of Valley Stream, the customer is our highest priority." Acura of Valley Stream was one of the first Acura dealers when the brand made its debut in 1986. Since that time, they have grown to become a highly respected East Coast source of new and used Acuras.
In addition to their longevity, Acura of Valley Stream proudly showcased their technological integration with the launch of vsacura.com earlier this year. Verga highlights, "Our new website, vsacura.com, not only allows customers to view our entire inventory of new and certified pre-owned vehicles, but also allows them to schedule a service appointment, order parts, and access their Acura OwnerLink account. The new website is just one example of how we're integrating technology into our business processes to enhance the Acura experience. By blending new technology with time-tested, personalized customer service, Acura of Valley Stream is able to stand apart from the other luxury car dealers in the North East."
For more information on new and used Acuras, please visit vsacura.com.
About Acura of Valley Stream:
Opened in 1986, Acura of Valley Stream was one of the original Acura dealers. Sales Manager Steve Verga has worked with the company since 1991 and has over 12 years experience with Acura products.
###