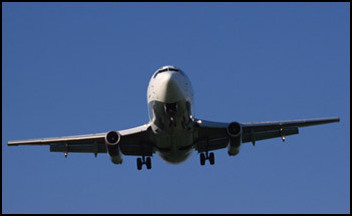 I saw this poor guy dump almost everything in the trash can and literally have only a toothbrush left.
Bethesda, MD (PRWEB) August 17, 2006
As if traveling weren't stressful enough, it just got more challenging. Due to a recent terror plot targeted at airliners leaving Britain for the United States, airport security tightened dramatically, prohibiting any liquids from carry-on luggage heading to or departing from U.S. airports. The restriction includes all beverages, lotions, hair gels, perfumes and a multitude of other commonplace items.
One sector hit particularly hard is airport businesses that service on-the-go travelers. A quick pre-flight stop in the terminal used to entail soda, water, some snacks and a magazine. Only now, liquids are no longer a part of the equation. Say goodbye to water, cola and ice tea. Energy drinks don't make the cut either. Even though the energy drink market has surpassed the soft drink sector, perhaps both will see a period of brief decline during this time of high security. While this has been a bust for many beverage companies, others are experiencing a boon.
As of late last Friday, EQ energy, an effervescent energy drink tablet, noticed a marked jump in online sales, up nearly 35% as of this week. Many consumers have indicated their appreciation to company representatives for a product that is portable, versatile, customizable, and convenient for travel. Guy Chetwynd, General Manager of the Soho House, an exclusive members-only hotel and club in New York City remarked, "Luckily energy doesn't need to come in liquid form. I brought EQ right onboard my flight to London and stayed productive the entire way."
EQ contains a unique vitamin mix and an energy blend of caffeine, taurine and glucoronolactone, common to other energy drinks currently on the market. EQ however, does not require a large, awkward or heavy can. Instead, EQ is available as a small foil packet or lightweight plastic tube and easily stored in a pocket, purse or backpack. This is music to many travelers' ears, who as of recent developments cannot carry liquids and are advised to arrive at the airport as early as three to four hours in advance. Consumers can rest assured that EQ will help fight off the exhaustion of a long day of security checkpoints and travel, and not be confiscated with other items such as toothpaste, lotion, and hair gel. One traveler noted, "I saw this poor guy dump almost everything in the trash can and literally have only a toothbrush left." With nearly all major airlines offering beverage services onboard, travelers can simply drop an EQ tablet into the beverage of their choice at any time for an immediate energy boost.
More and more travelers, whether venturing out for business or for leisure, are turning to energy drinks as pick-me-ups after long flights. Whether it's going straight from the plane to a business meeting, or immediately hitting the streets for sightseeing, there is little room for fatigue. With a combination of vitamins and Ginkgo Biloba, EQ offers a healthy blend of energy. According to Chetwynd, "EQ tastes great, and it really sharpens my concentration skills and energizes my entire body. It really helps with jet lag."
EQ is currently available nationwide at Rite-Aid/GNC stores, D.C. Snacks and online at http://www.drinkeq.com. It is slated for availability at http://www.amazon.com, http://www.cvs.com, Meijer Superstores and many other fine locations in the coming weeks.
For more information, please contact Teresa Chen at 800.884.5771, extension 234.
# # #