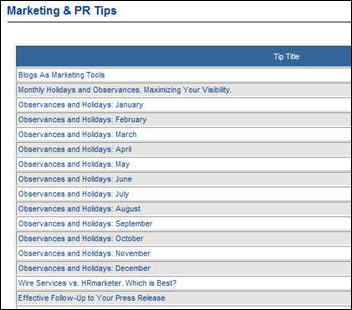 In such a competitive marketplace, relating your press release to a current event such as a holiday or observance can make the release more attractive to the media
Capitola, CA (PRWEB) August 17, 2006
A tie-in to a special day or event can add a news peg and increase visibility for a company's press release. HRmarketer.com, the premier marketing and media visibility service for the human resource industry, today unveiled its Observances & Holidays resource, in honor of No. 2 Pencil Day.
This new addition to HRmarketer's extensive suite of databases and tools is located in the comprehensive "Marketing & PR Tips," only available to HRmarketer members. Each month is separated into the following categories: Holidays, Daily Observances, Monthly Observances and Weekly Observances. The resource comes with its own "Tip" on using these dates to a company's best advantage.
While only the most adventurous souls would dare leveraging "Dance Like a Cuckoo Day" or "Talk Like a Pirate Day," many observances are a natural fit for the human resource industry. For instance, January is Human Resources Month. May 17 is National Employee Health & Fitness Day, and August 1 is Respect for Parents Day. These dates can be used as opportunities to highlight HR issues such as employee wellness and eldercare.
"In such a competitive marketplace, relating your press release to a current event such as a holiday or observance can make the release more attractive to the media," says Kevin Grossman, Chief Operating Officer of HRmarketer.com. "And sending the release through HRmarketer's Direct2Net wire service, suppliers can reach buyers directly who may be searching the Internet for timely product and service information."
Relating your HR products and services to No. 2 Pencil Day may be a stretch, but as mentioned there are many more holidays to choose from in this list of daily, weekly and monthly holidays and observances. For information about all the benefits of membership, visit http://www.HRmarketer.com.
About HRmarketer.com
HRmarketer is a service of Fisher Vista LLC, a marketing and information services firm focusing exclusively on the human capital industry. The company services over 300 HR service providers, employee benefit brokers and consultants, helping them generate publicity, website traffic and sales leads.
This press release was distributed through eMediawire by Human Resources Marketer (HR Marketer: http://www.HRmarketer.com) on behalf of the company listed above.
# # #