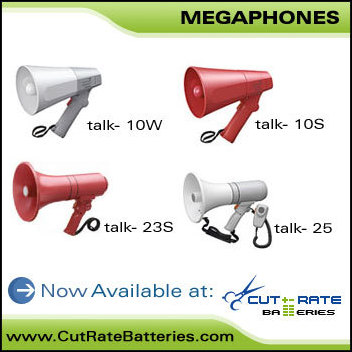 Forest Lake, MN (PRWEB) August 17, 2006 - Cut-Rate Batteries, Inc., a leading provider of replacement batteries for two-
way radios, barcode scanners, barcode printers and other portable devices, today announced that it has entered into a strategic distribution arrangement with Talk Toolbox, Inc to market their complete line of high quality Megaphones.
With this agreement, CutRateBatteries.com will offer an extensive range of portable power megaphones that provide optimal reinforcement of voice for various applications in different environments such as schools, universities, public safety, government organizations and factories among others.
The Talk Toolbox power Megaphones offer exceptional reliability and performance. All models of the Megaphones incorporate anti-bacterial treatment to cope with multi-user environments. These Megaphones feature compact and stylish designs with powerful outputs. Utilizing state of the art materials and components, the Megaphones are able to deliver exceptional acoustic performance. Other features such as a siren and whistle are available on some models. To maximize the credibility of such a high quality product, Talk Toolbox and CutRateBatteries.com offer an unparalleled five year replacement warranty on each Megaphone.
"Megaphones are the first product that we are offering to our customers outside of our core product line of battery packs. We find that many of our customers such as schools, universities and public safety organizations are some of the biggest users of Megaphones. This presents us with a great opportunity to represent a high quality manufacturer such as Talk Toolbox to our customers" said Baani Amrita, the company spokesperson. "Actually, this is a big win-win for everyone, because our customers will be able to count on our reputation for providing the highest quality batteries to safely purchase Megaphones, knowing very well that we will be right there to support them if they face difficulties of any kind. We have been very selective in our search for a high quality Megaphone manufacturer. The Megaphones we have decided to offer to our customers are literally among the best available in the market. These Megaphones are designed and manufactured in Japan. Each Megaphone is loaded with advanced features and comes with an unmatched five year replacement warranty. We expect our customers will be very pleased with such an addition."
Steve Markland, President of Talk Toolbox, Inc added, "We are extremely excited about teaming up with CutRateBatteries.com to distribute our Megaphones. With their reputation as a premier, low cost – high quality online distributor of battery packs and their commitment to excellence in all areas of customer care, we are confident that their customers will significantly benefit from this alliance."
To learn more about Megaphones available from CutRateBatteries.com, please visit http://www.CutRateBatteries.com
About Cut-Rate Batteries, Inc.
Cut-Rate Batteries, Inc. is one of the fastest growing online battery retailers. By providing its customers with the highest quality two-way radio batteries and barcode scanner batteries at unbeatable prices, it has quickly established itself as a leader in the online battery marketplace. CutRateBatteries.com serves the battery needs of several Fortune 500 companies along with hundreds of government, public safety and military organizations.
Media Contact:
Baani Amrita
Cut-Rate Batteries, Inc.
651-204-9990
http://www.CutRateBatteries.com
###