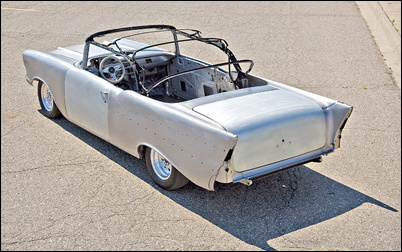 Rochester, MI (PRWEB) August 17, 2006
The saga of the 1957 Chevy (arguably the world's most popular classic car) is about to take a giant leap forward. This is because CARS Inc. (leading maker of metal and interior parts for 1952-1976 Chevrolets) is launching to the world (in time for the 50th Anniversary of the 1957 Chevy) a brand new "classic" 1957 Chevrolet Bel Air convertible all steel body, as well as a body on a chassis (choice of either Art Morrisson chassis or original factory chassis).
In addition to the complete steel body, CARS Inc. will be offering a complete "turn-key" 57 Chevy option (available in three configurations: (1)Just Like Factory New - (2)All of the Modern Comforts and Safety Features, and (3)Pure Muscle Machine - with the finest GM Performance crate motors available) -- all exclusively from CARS Inc.
This new 1957 Chevy body and "turn-key" car now opens to doors to thousands of Chevrolet enthusiasts around the world to own one one of these classic American icons for themselves, and is a perfect opportunity for the home restorer - as it means not needing to own welders, heavy lifts, sand blasters, and other heavy garage equipment.
The "turn-key" 1957 Chevy option allows people who either do not know how, or do not desire to restore a classic Chevy the unique opportunity to experience the prestige that comes with owing one of these classic 1957 Chevrolet convertibles - as opposed a modern luxury convertible such as the Cadillac XLR, or a Mercedes convertible. These completely unique convertibles are restored cars using a large majority of newly manufactured parts - but the core is an original 1957 Chevy cowl - so this is officially a restored 1957 Chevy, with an original vehicle identification number.
The offering of this fully assembled '57 Bel Air convertible is a culmination of over 30 years of CARS Inc. making and selling individual metal replacement parts for the 1957 Chevy. It all started with just one replacement metal item many years ago - and then, each year more items for the 1957 Chevy were reproduced as brand new replacement parts - then entire complex sub-assemblies were made (assemblies such as a complete welded floor, or a complete door) - to the point today where it is now possible to make a complete 1957 Chevy available with new parts (other than a quality original 1957 Cowl - with cowl tag).
The steel body only option is a heavy gauger (USA Made) spot welded metal shell. The steel body includes all fenders, quarters, braces, pans, as well as the convertible top bow assembly -- essentially every sheet metal part that is required to create a 1957 Chevy convertible. It is available in this option without the frame. All three models - including this option - have an original 1957 Chevy factory cowl. This option does not include the chassis, leaving the opportunity for a restorer to create the car they want in every way, down to their exact specifications. CARS Inc has all restoration parts needed to complete this restoration job.
The second option is the rolling steel body (exactly the same steel body as above) with the addition of a chassis. The chassis comes with or without suspension components - depending on the desire of the purchaser. With this option, all of the hard welding and body-frame marriage work is done before the car is shipped. It eliminates having to invest money in welding and specialized tools such as a car lift. Again, the convertible rolling chassis also comes with an original cowl. The only thing that's left to fill in is the rest of the interior and exterior of the car - details such as picking the engine, transmission, interior and exterior trim, the interior options and related parts. This option is perfect for home restorer. The chassis is available as an original chassis or an upgraded Art Morrison chassis. CARS Inc has all restoration parts needed to complete this restoration job.
If driving away in a brand new 1957 Bel Air convertible is your choice, this is the option for you. it is just like getting a brand new car straight from the dealership - except this car has all the cool styling of the 1957 Chevy. With this option, the buyer doesn't have to know anything about classic car restoration, or car part installation. All the hard work is done - such as welding, metal finishing, joining the sheet metal body with the chassis - as well as installing all engine, interior, and exterior components. Again, an original 1957 Chevy cowl is used with this option as well. The Art Morrison chassis would be most commonly used for this option (for drivability and performance reasons - as well as the ability to select from many engine options). For the purist, an original 1957 Chevy frame (with X-frame) is also available. The only thing that is left to do with this option is to turn on the car, sit back, have fun and enjoy driving a car that will certainly be the envy of the neighborhood - no matter where that neighborhood is located.
With the "Turn-Key" option, there are three "standard option" which can be selected:
1. Just Like Factory New - This one is as close to factory original as possible. It includes all original parts just like when it rolled off factory assembly line in 1957. By featuring all original parts and keeping it in its' purest form it will be indistinguishable from any "frame off" restoration job. The original parts will include the chassis, wheels, trim, parts, originally restored engine, the transmission and the authentic 1957 Chevy convertible interior.
2. All of the Modern Comforts and Safety Features - This option features all of the prestige of the original '57 Chevy, but the luxuries of today. It will have all of the current technological advances such as improved driving and performance ability, air-ride or performance suspension technology with advanced suspension components, a new top of line crate engine and transmission, all wheel disc brakes for ideal safety. You have the choice of aluminum or billet wheels. This model will also have the interior luxuries such as air conditioning, cruise control, modern stereo, and lumbar seats. There is a choice of leather or original patterned interiors. This model has all of the comforts of brand a new luxury car, with the classic look of 1957 Chevy. It comes standard with an Art Morrison Chassis.
3. Pure Muscle Machine - This option will make your new Chevrolet convertible a true modern muscle machine. You'll be able to get up and go a powerful large cubic inch GM Performance crate engine, suspension comparable to the 2006 corvette, all wheel disc brakes, and any other performance enhancements requested. This model will not be short on any performance enhancing options for ignition, fuel management, torque or horse power. There is a choice of aluminum or billet wheels. There will be optional interiors choices between leather and original patterns. The model comes standard with Art Morrison Chassis.
The company that is behind this project is CARS Inc. of Michigan. Since starting in 1976, CARS Inc. has grown into an industry leader in the classic Chevy restoration parts, interiors, and sheet metal market - with current restoration capabilities that include reproducing the items needed to restore most 1952-1976 Chevrolets.
Currently CARS Inc. makes and sells thousand of classic Chevy restoration parts – from the smallest bumper bolts, to headlamp bezels, to factory quarter panels, to custom hand-sewn interiors – for these models: 1953-54 Bel Air, 1955-57 Cameo Pickup, 1955-57 Chevy, 1958-72 Impala, 1964-72 Chevelle, Malibu and El Camino, 1962-79 Nova, 1967-76 Camaro, 1970-72 Monte Carlo, 1967-72 Chevy Pickup and the 1971-72 Blazer and Suburban.
For more information about this 1957 Chevy Convertible Body, please visit http://www.1957ChevyBody.com - or call 1-586-739-4532
CONTACT INFORMATION:
Jason Plummer
2600 Bond Street
Rochester, MI 48309
586-739-4532
###