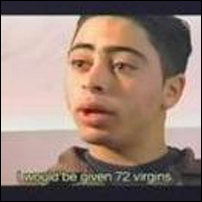 We feel this will be one of the most important and provocative documentaries of the year.
New York, NY (PRWEB) August 21, 2006
City Lights Pictures announced today the release of its torn from the headlines, feature-length documentary "Suicide Killers" by the noted French filmmaker Pierre Rehov.
Pierre Rehov, a novelist and magazine editor, has produced and directed seven major documentaries about the bloody conflict and tensions in the Middle East. Based on testimonies, analyses and archives his films broach subjects rarely talked about.
In his latest film, "Suicide Killers," Rehov examines the psychopathology of suicide bombers, including never before seen footage of a suicide bomber as he prepares for a mission to kill innocent Jewish and Arab victims, taking us on a disturbing journey deep into a culture that few can comprehend. The film includes interviews with families of Hamas members who have "martyred' themselves, as well as those whose efforts have been thwarted. What Rehov found will contradict every notion you've ever had of this terrifying phenomenon. Lisa Magnas who has worked with Rehov on several of his projects is Executive in Charge of Production.
Danny Fisher, CEO of City Lights Media Group said; "We feel this will be one of the most important and provocative documentaries of the year."
City Lights Pictures recently executive produced John Waters' "A Dirty Shame" for New Line Cinema and produced supernatural thriller "Tamara" for Lionsgate from "Final Destination" creator Jeffrey Reddick. City Lights Pictures and M.E.G.A Films are completing post-production on the thriller "Descent," produced by and starring Rosario Dawson. City Lights has completed principal photography on "The Ten" a hilarious comedy spoof on The Ten Commandments starring Jessica Alba, Winona Ryder, Paul Rudd, Adam Brody and Gretchen Mol. City Lights Pictures is also producing "Interrupted," a feature film adapted from legendary director Nicholas Ray's posthumous autobiography, "I Was Interrupted" and to be directed by Philip Kaufman.
City Lights Media Group has become one of New York City's most respected and fastest growing media companies, engaged in film and television financing, production and distribution and operating one of the largest post-production facilities in the country. City Lights Television is currently in production on nearly 400 television episodes for networks including AMC, TLC, Court TV, Discovery, FitTV, Fine Living, HGTV, DIY, Oxygen, Weather Channel, and MTV. City Lights Television is currently producing "Cover Shot" for TLC. Series currently airing include AMC's "Movies 101," featuring guests Martin Scorcese, George Clooney, Jennifer Aniston, Whoopi Goldberg and Daniel Day Lewis and Discovery Home's "Inner Chef."
Request a screener and visual materials from Evan Spier at email: evan.spier@citylightsmedia.com or phone: 646-467-7554.
Please visit the Suicide Killers website at http://www.myspace.com/suicidekillersmovie
# # #