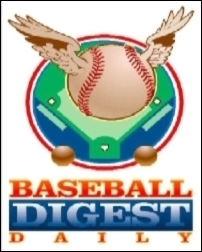 The new interface and expanded functionality of Baseball Digest Daily has been designed to better meet the needs of our users
New York, NY (PRWEB) August 22, 2006
Baseball Digest Daily (BDD), today announced the launch of its enhanced Web site (http://www.baseballdigestdaily.com) just in time for the final stage of the 2006 pennant race.
Building upon BDD's reputation for providing baseball news and features that can't be found anywhere else, the new site reflects user demand for expanded original content and syndicated news, as well as enhanced tools to manipulate BDD's free database of player and team statistics.
With over 75 pages of baseball news and original content, a statistical database covering more than 125 seasons of professional baseball, proprietary analysis tools and more than 1,000 registered users, BDD represents one of the most comprehensive independent online outlets dedicated to baseball.
New Products, Services and Upgrades Available on BDD:
New User Interface – The enhanced site is now easier to navigate and features a more user-friendly layout and intuitive organization of information.
One-of-a-Kind Features – The site showcases expanded in-depth original content from BDD's team of experienced reporters. BDD provides interviews and features with major and minor league baseball personalities that can't be found anywhere else. In addition, BDD's Front Office Journals provide an inside look at the day-to-day operations of a professional baseball team as seen through the eyes of front office staff.
Recent features have included interviews with John Schuerholtz, General Manager of the Atlanta Braves, John Dewan of Baseball Info Solutions and Andrew Friedman, Executive Vice President of Baseball Operations for the Tampa Bay Devil Rays.
Comprehensive Content – Adding additional RSS feeds from MLB.com, CBS Sportsline and Yahoo!, BDD now features even more breaking baseball news and interviews the moment they are published.
Statistical Database and Analysis Tools – BDD's free database and proprietary analysis tools provide users with the latest player and team statistics at their fingertips. Enhanced filtering and sorting tools allow users to better manipulate BDD's database, which contains in-depth statistics from the inception of organized play (including all players, teams, standings, etc.).
In addition, BDD's My Digest player tracker provides a platform for serious fans and fantasy baseball enthusiasts to easily monitor the progress of their teams, allowing users to manipulate and track the progress of an unlimited set of players over a customized period of time (e.g. daily, weekly, etc.).
BDD Newsletter – BDD's free daily newsletter helps users stay up to date on breaking baseball news, trades, and new features available on the site.
"The new interface and expanded functionality of Baseball Digest Daily has been designed to better meet the needs of our users," said Joe Hamrahi, founder of Baseball Digest Daily. "We're pleased to offer content and tools that can't be found on any other dedicated baseball site, and this is just the beginning of our growth and development."
About Baseball Digest Daily (BDD)
Founded in 2004 as a resource for the serious fan, Baseball Digest Daily (BDD) is a New York-based press outlet and comprehensive online destination for major and minor league baseball news, features and statistical analysis.
The organization holds press credentials from Major League Baseball as well as several minor league teams, and BDD's statistics and original reporting are regularly featured in national syndicated baseball coverage.
In addition, BDD's free comprehensive database and statistical analysis tools provide a platform for serious baseball fans and fantasy baseball enthusiasts to easily track the progress of their favorite players throughout the season.
BDD is a member of the Society for American Baseball Research (SABR), and all official statistics are provided by Baseball Info Solutions (BIS).
For more information on Baseball Digest Daily, call (631) 252-3897.
Media Contact:
Joe Hamrahi
(631) 252-3897
Baseball Digest Daily and the Baseball Digest Daily logo are trademarks and/or registered trademarks of Baseball Digest Daily.
All other names are trademarks and/or registered trademarks of their respective owners.
# # #