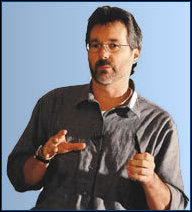 lays bare the process that the best copywriters and marketing consultants rely on to quickly identify problems.
Los Angeles, CA (PRWEB) August 22, 2006
Like most entrepreneurs, working on your own sales and marketing copy is a frustrating, time-consuming, and ultimately ineffective exercise. Want access to one of the most moneymaking ad copywriters in America? What if that spotlight was trained on how replicating Carlton's processes for your own business could reveal a simple profit-generating tool entrepreneurs could use over and over?
This fall, Lorrie Morgan-Ferrero, one of America's top female copywriters, has arranged for marketing superstar John Carlton to make a rare appearance for a one-day workshop on September 13, 2006, in Los Angeles (beautiful Redondo Beach, to be exact.) With over two decades of writing success under Carlton's belt and many of the direct marketing world's most effective sales letters in his portfolio, Carlton is booked over a year in advance by companies happy to pay top-dollar for just this expertise, even though hungry entrepreneurs very rarely find him traveling from his home base of Reno.
During this live event, Carlton puts three to five attendees to the test on what he calls the Hot Seat. It's a powerful critique technique Carlton, Gary Halbert, and Jay Abraham invented fifteen years ago (and they've given over a thousand since.) In the pursuit of the most effective marketing copy possible, no punches are pulled. According to Carlton Hot Seats "lays bare the process that the best copywriters and marketing consultants rely on to quickly identify problems."
Register for the workshop now and be selected as a volunteer to be on the infamous Hot Seat. Entrepreneurs receive an application to fill out and be entered in the lottery of interested candidates. If chosen, these entrepreneurs can only hang on and be ready to "handle the truth." Carlton is unflinching. He won't rewrite your copy; he'll blow it apart, dissect it, and analyze just what works. The audience of entrepreneurs and copywriters will get the same first-hand look at the secret process the pros use, without the anxiety or emotional attachment of being "on stage". No matter what the industry or product in the spotlight, the essentials of copy that sells are the same. To Seat or not to Seat…the choice is yours.
As Carlton puts it, experiencing Hot Seats is "like taking care of your computer. When you're clueless, you pay beaucoup bucks to an expert…if you never ask him what he's doing, it will remain a mystery. However, if you simply ask him to explain, and watch him do it over and over …well, by God, you're going to finally understand that the 'magic' he performs isn't so mysterious after all. Even if you only pick up the fundamentals, you'll still be light years ahead of everyone else… able to fix most of your future problems, or at the very least have a damn good idea of what the problem is. The Hot Seat provides priceless 'continuing education' for any marketer." To register, visit http://www.red-hot-copy.com/workshop.htm.
John Carlton is one of the top marketing experts in the world and "the most respected and ripped-off copywriter alive". Known as the "Marketing Rebel", he publishes the internationally acclaimed "Marketing Rebel Rant" newsletter, where he shares effective advertising, marketing & copywriting strategies.
Lorrie Morgan-Ferrero, is an international copywriting trainer, author and speaker with over 20 years of experience as a freelance writer and journalist. A direct descendant of Ralph Waldo Emerson, Lorrie's services include live hands-on workshop events and teleseminar courses, in-depth copy critiques, and step-by-step information products to demystify the copywriting process.
# # #