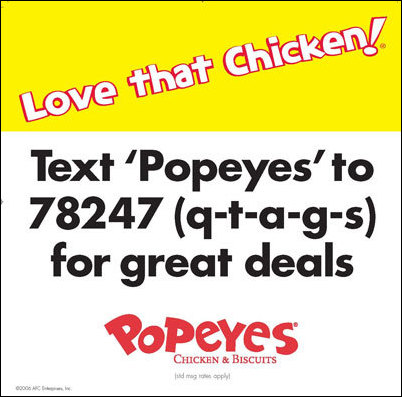 Popeyes has always been committed to traditional marketing and advertising
Houston, TX (PRWEB) August 21, 2006
Popeyes® Chicken & Biscuits, a division of AFC Enterprises, Inc. (NASDAQ: AFCE) is spicing up its marketing efforts with the qtags' short-code text messaging system.
In conjunction with its advertising agency Fogerty Klein Monroe, the Atlanta-based restaurant chain is adding the qtag 'popeyes' to outside signage at 94 Houston-area locations.
Popeyes will display a call-to-action on reader boards outside outlets inviting customers to text 'popeyes' to QTAGS (78247). Once texted, the customer will receive a text message reply with instructions on how to redeem free Cajun fries and Medium drink with the purchase of a Chicken Deluxe Sandwich.
"Popeyes' customers get an immediate connectivity to the company via the text instructions, which is a powerful incentive because it can be requested and redeemed at the spur of the moment," says Allison Gower, qtags president and co-founder.
"Popeyes has always been committed to traditional marketing and advertising," says Greg Hobbs, Houston Popeyes Co-op President. "We wanted to expand our marketing capabilities by taking advantage of an unexplored territory of text messages."
Fogarty Klein Monroe's Darlene Ashley adds that Houston-based qtags has been identified as the agency's text messaging supplier of choice and notes "qtags provides a cost-effective, off-the-shelf solution that makes it easy to integrate sms/text interactivity into our client's campaign, while being robust enough to support our most creative objectives".
About qtags
qtags text has been used since Fall 2005 by some of the world's most well known brands, including HP, Applebees, FYE and Rip Curl USA. The company offers the qtags service to non-profit organizations at no cost. For more information on how this innovative marketing concept works, setup your own qtags inbox at http://www.qtags.com, visit the company blog at http://www.allaboutqtags.typepad.com or the advertiser resource site at http://www.qtagsforadvertisers.com
About Popeyes
Popeyes Chicken & Biscuits sells its famous New Orleans-style spicy and mild-seasoned chicken by the box, by the piece and in dinner combinations. Each is offered with Popeyes' special buttermilk biscuits. Popeyes is the world's second-largest quick-service chicken concept and has more than 1,805 restaurants in 42 states, the District of Columbia, Puerto Rico and 21 other countries. The Houston-area is served by 94 franchise stores.
Media Contacts:
qtags -
Allison Gower, 877-667-2633
John Wagner, 281-565-6045
Fogary Klein Monroe
Darlene Ashley 713-867-3107
Mynette Black 713-867-3152
###