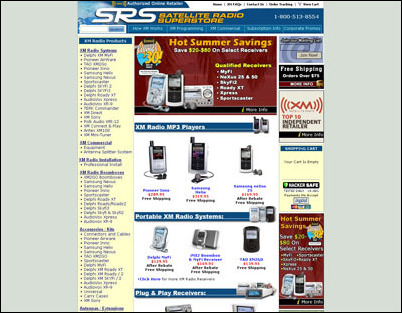 We feel our competitive advantage is our trained and committed staff that works hard to bring each customer the very best in service and support
Winter Park, FL (PRWEB) August 21, 2006
Satellite Radio Superstore has earned the title of Top 10 Independent Retailer for XM Radio. The store's award is a result of commitment from its owner and staff to offering the best XM Radio products and a unique level of service to support each sale.
Satellite Radio Superstore is an authorized XM satellite radio dealer offering products, accessories, and service via the Internet at XM-Radio-Satellite.com. The store offers customers a large selection, including XM satellite radio accessories, a variety of satellite radio and mp3 player choices, and XM satellite radio receivers.
This XM satellite radio dealer is unique because it has a fully trained staff dedicated to assisting customers. "We feel our competitive advantage is our trained and committed staff that works hard to bring each customer the very best in service and support," says Matt Moffett, President of Satellite Radio Superstore.
Among XM satellite radio service providers, many work out of home-based offices and request shipments through warehouses owned by third parties. This often causes problems for customers because the company that they have paid for their product doesn't actually own the warehouse or control the shipping. Satellite Radio Superstore is different because it has its own offices and warehouse staffed by twelve employees selling only satellite radio products.
"We feel this award separates us from our competition by proving our track record as a committed XM satellite radio dealer," says Moffett.
Satellite Radio Superstore also offers all customers the chance to interact with a live customer sales associate if they have any questions about the XM satellite radio service or products that are offered. Many competitors do not offer this level of service and support, which is one of the reasons that Satellite Radio Superstore has been recognized as a Top 10 Independent Retailer for XM Radio.
About Satellite Radio Superstore:
Satellite Radio Superstore and its Website, XM-Radio-Satellite.com, were founded by Matt Moffett. Moffett has a degree in finance from the University of Central Florida and has been involved in the satellite radio business since 2001. He started Satellite Radio Superstore in 2003. For more information, visit the store's XM satellite radio Website at XM-Radio-Satellite.com.
# # #