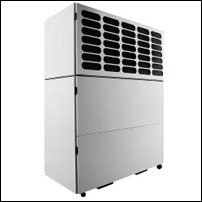 It's all about giving your customers a quick response. When their air conditioning goes down, they need emergency cooling now, so having a system in place that allows them to chat with an expert speeds up the process of getting their server room back to its optimum temperature
Dallas, TX (PRWEB) August 21, 2006
ServerCOOL.com is excited to announce the launch of a new website promoting the sales and rentals of the AirPac brand of portable AC units and spot coolers for server room cooling. Customers can find portable AC rentals, new portable ac units and portable air conditioning specifications.
With this summer being one of the hottest in Texas history, keeping company server rooms at optimum temperatures is not an easy task. Servers and computers that run your network are all designed to function in a very specific temperature range, so even the smallest fluctuation can mean disaster if you do not have a good backup plan. This is where ServerCOOL comes into the picture.
If a company's computer server crashes, millions of dollars can be lost. The servers can be replaced, but the possible data loss can ruin a company. One of the main causes of server failure is due to overheating, so keeping a server room at the optimum temperature is crucial for peak performance. Part of every company's disaster recovery plan should include a plan for emergency cooling systems in the event of a shutdown to facility air conditioning. Having several portable AC systems and spot coolers on hand for backup purposes would alleviate some of the problem.
"The majority of our emergency response calls involve the failure of air conditioning equipment associated with critical temperature computer and server rooms." says Bruce Soileau, President of ServerCOOL. "When that happens, getting the server room back to its optimum temperature becomes a top priority for the facility manager, network manager and their portable AC company." This usually involves strategically placing portable AC units or spot coolers into the overheated rooms to remove heat and bring the temperature down as quickly as possible.
Soileau says that".. they now offer 10 ton portable air conditioners that can be rolled into place in minutes and will fit through a 32 inch doorway. This is a major feature not found in most portable AC systems of this size. "Having the ability to place a portable cooler that produces 120,000 BTU's of cold air into a server room can cool a server room down in minutes, which in most cases…saves the day" says Soileau.
ServerCOOL.com has also just implemented a new "live chat" system on their website to assist customers with portable AC sizing and application questions. Soileau says, "It's all about giving your customers a quick response. When their air conditioning goes down, they need emergency cooling now, so having a system in place that allows them to chat with an expert speeds up the process of getting their server room back to its optimum temperature".
About ServerCOOL:
ServerCOOL.com sells and rents portable AC units from the smaller one ton units (12,000 BTU's) up to the larger 30 ton trailer mounted units (360,000 BTU's), as well as air conditioning accessories. ServerCOOL can ship portable AC units anywhere within the US.
###