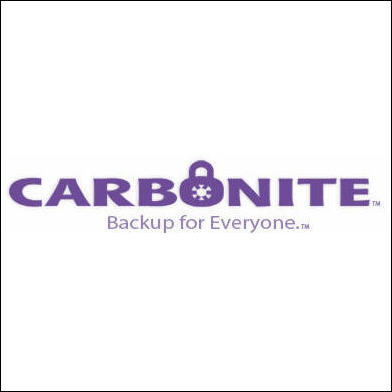 We are proud to have earned a reputation for creating a long lasting, timeless brand that continues to deliver quality products that utilize the latest technology.
San Francisco, CA (PRWEB) August 22, 2006
Riverdeep customers of Broderbund's, The Print Shop® 22 product line, can be the first print program users to get a free 15-day trial subscription to Carbonite, the online backup service that backs up your whole computer simply and automatically. The Print Shop22 customers can go to http://www.carbonite.com/broderbund to sign up for a free 15-day trial of Carbonite's unlimited (storage) backup service. After the trial ends, users can renew their backup subscription for only $49.95 per year or save $10.00 by purchasing a two-year subscription for only $89.95. The Print Shop customers can protect and save irreplaceable data including photos, music, documents, email, and The Print Shop projects with this new automatic and continual PC backup service from Carbonite.
Bill Cunningham, Vice President of Business Development for Riverdeep, "Riverdeep is very excited about our partnership with Carbonite. We believe that our customers will be thrilled by the opportunity to back-up and secure their personal and professional digital content at such a reasonable price." "We are proud to have earned a reputation for creating a long lasting, timeless brand that continues to deliver quality products that utilize the latest technology."
David Friend, Carbonite's CEO, added, "Carbonite is very pleased to be entering into this relationship with Riverdeep and Broderbund. Millions of people around the world rely on The Print Shop to create, edit, and organize pictures, projects, and other important data. Now Carbonite will automatically protect the user's data from disk crashes, virus attacks, theft, fire, and other disasters. It's simple, automatic, and inexpensive."
First introduced in 1984, The Print Shop has been a mainstay in the desktop publishing software arena for over 20 years, known for being one of the first software programs to make the complex technology behind digital design easy for the average consumer.
The Print Shop® 22 Line
The Print Shop® 22 line provides users with everything they need to create professional, personalized projects for both home and business needs. Developed with the user in mind, The Print Shop 22 now includes an expanded content search capability, enhanced photo and text-editing tools to improve project development, and online access to more than one million images with a subscription to the Million Image Club! Packed with new tools and renowned ease-of use, it is the perfect combination of superior text controls, premium images and graphics, and powerful photo editing.
Pricing and Availability
The Print Shop line offered on CD-ROM or DVD-ROM for Windows® ME/2000/XP, are available on-line at http://www.broderbund.com, and at retail for a suggested price ranging from $29.99 US to $199.99 US.
About Riverdeep
Riverdeep Inc., A Limited Liability Company, with offices in Dublin, Ireland and San Francisco, California, is a leading publisher of interactive products focusing on productivity, kids' entertainment, and education markets for children and schools. Riverdeep's rich portfolio of interactive award-winning products features such well-known brands as The Print Shop®, Reader Rabbit®, and Destination Success®. For more information on Riverdeep and Broderbund products visit us at http://www.riverdeep.net.
About Broderbund
Broderbund, a division of Riverdeep, is a leading publisher of consumer productivity software, with leading titles such as The Print Shop®, ClickArt® and Creating Keepsakes™ Scrapbook Designer. Since it's beginning in 1980, consumers have relied on Broderbund for products that offer high quality, ease of use and exceptional value.
About Carbonite
Carbonite was founded in 2005 in order to provide Internet-based Backup for Everyone™. Although data loss is a very common problem, few people backup their PCs. Burning CDs is tedious and error-prone. Outboard hard drives are expensive, complicated, and vulnerable to theft, fire, and viruses. Business-oriented online backup services are too complex and expensive for consumers. Carbonite is dedicated to simple, inexpensive, automatic PC backup over the Internet.
At Carbonite, we believe PC users shouldn't have to think about backup. Our mission is to provide an inexpensive, reliable and truly easy-to-use solution for the mainstream PC user; one that is simple, safe and always on™.
Contact: Rob Wyse 212-920-1470
© 2006 Riverdeep Interactive Learning Limited, and its licensors. All rights reserved. In the interest of product improvement, all information and specifications represented herein are subject to change without notice. All trademarks are the property of their respective owners.
# # #