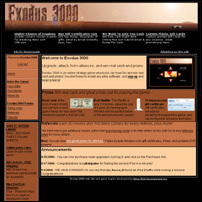 Fargo, ND (PRWEB) August 22, 2006
Viking Web Development, Inc. announces the launch of Exodus 3000 (http://www.exodus3000.com), a next-generation multiplayer online game. Exodus 3000 is a free, tick-based role-playing game that includes payouts of real cash and prizes. No downloads or purchases are required to play.
Back story: Exodus 3000 takes place one thousand years in the future. Earth has become uninhabitable and the surviving humans are fleeing to Mars. You are one of those humans, and you must defend your new homestead on Mars at all costs, while mining the volcanoes for riches and laying claim to settlements to gain influence over other settlers.
Players can use game funds (called Mars Dollars) to purchase upgrades such as weapons, defenses, security, intelligence, and radar. The homesteads of other players can be attacked. If an attack is successful, the attacking player receives some of the losing player's Mars Dollars, and vice versa of the attack fails. Settlements (which are similar to Homesteads) are randomly located on the game grid and can be claimed by any player. These can also be attacked and taken over by rival players.
To increase player interactivity, alliances can be formed which are used to give a stat boost to all who join. The alliance leader can accept or decline requests to join his or her alliance. The more members in an alliance, the stronger it is. Alliance members can communicate among one-another using an in-game messaging system.
At the end of every month, players can exchange the Mars Dollars they've earned into real cash. The minimum payout is $20.00 and the exchange rate is posted on the Exodus 3000 web site. Prizes such as iPods and Amazon.com gift certificates can be found by searching volcanoes and deserted ruins in the game.
Players receive a personalized referral link they can use to promote the site. 50 free moves and 100 game funds are given for every referral. Prizes are also awarded after 5, 10, 20, 50, 250, 500, and 1000 referrals, including iPods and portable DVD players.
###