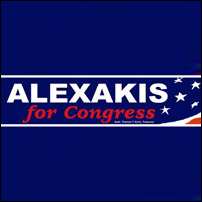 It is illogical that drugs that are discovered and produced in the USA are cheaper in Europe and Canada.
Baltimore, MD (PRWEB) August 23, 2006
In a pledge to fight for more Federal funds that would revive the long-neglected Chesapeake Bay natural resources, resolve inequities in education, implement better healthcare solutions and promote alternative fuels, Kostas Alexakis announced his candidacy in his state's capital. He is supported by Friends of Alexakis for Congress Committee which assures his victory in the upcoming Democratic primary for Maryland's First Congressional District. The founder of Principals Academy, which provides tools for assisting school principals in creating environments conducive to education, past board member of the Maryland Committee for Children, astute businessman, and attorney, he argues that the issues he fought for last time are still unresolved and the Republican incumbent's record of impotence continues to grow.
Kostas Alexakis, 52, who has a legal background in real estate, is facing, in the September 12, 2006 Democratic primary, two opponents: Jim Corwin, a physician, and Christopher Robinson. The winner of this contest will become the standard-bearer of the Democratic Party in the upcoming general elections and will challenge the Republican incumbent.
Asked by the "Baltimore Sun" to disclose his priorities as a House member, Alexakis communicated: "I am running to offer our district an effective voice in Congress. I refuse to be immobilized by the notion that our world is too complex and that we are individually powerless to make a difference and make our world safe, fair and peaceful! It is a fact," the candidate declared, "that the First Congressional District as well as all of Maryland continues to suffer without its fair share of Federal resources needed to fix the critical problems that are affecting our quality of life."
The Democratic hopeful's platform contains issues facing the Congressional district he lives in, including the petitioning for Federal resources with which he can address the unregulated and on-going pollution of Chesapeake Bay, which has reached proportions of an environmental emergency. The worsening condition of the Bay cannot be fixed "with a bumper sticker campaign, more studies or 'flush tax'." He points to the routine closing of beaches for 'bacterial contamination' as totally unacceptable. "We are living in Third World conditions and this is just intolerable" he said. He also finds as unacceptable regulations that put limits to our fish-eating, because of contamination. "The symptoms of rampant pollution on the Bay which in reality is an Estuary," he concluded, "are indications of a much larger problem: political inaction! The Bay's pollution has been studied and is by now clearly understood plus quantified and all that there remains is political will to bring to bear a comprehensive solution. "Moreover," he added, "Maryland's Eastern shore has been growing beyond the community's capability to deal with its infrastructural needs and that includes the current sewage treatment facilities. It is a problem which has grown out of proportion primarily because of neglect."
The problem in restoring the Bay is that most of the jurisdictions that contribute to the pollution are outside of the control of our Maryland state and local governments. Therefore, the solution requires coordinated effort across the region and is something that can only be accomplished through the power of the federal government. The solution requires strict enforcement of pollution standards, a package of incentives for creative environment-friendly farming and investing in the aged waste treatment infrastructure. The solution requires political will to bring to bear the billions necessary to bring the Bay back to health."
As far as our energy policy, his platform demands that our nation takes the world leadership in researching for alternative fuels, which, coupled with an aggressive conservation program, should take us where we want to be. However, this plan, he finds, must go hand in hand with a tax incentive program that will encourage entrepreneurs and inventors to come up with new, non-fossil fuel sources of power and new non-polluting technologies.
Citing additional issues, Alexakis speaks on education. "Our public schools are broken," he says. "We must face up to the obligation to make our schools live up to the promise of government to provide education to its citizens. Likewise, the social security safety net is evaporating and health care has become an evasive luxury item." In the very sensitive issue of health care, he believes that healthcare must be indiscriminately available and affordable to every citizen, so we must rethink how these services are dispensed and priced. Nevertheless, this Governmental obligation has long gone unfulfilled, for lack of legislative commitment that would provide for affordable as well as quality healthcare to all our citizens. "It is illogical that drugs that are discovered and produced in the USA are cheaper in Europe and Canada."
Responding to a question of whether he supports limits on federal funding for embryonic stem cell research, the candidate supports science and research, and believes that there should not be any limits to scientific accomplishments.
Tackling the issue of the Iraqi war, the Congressional aspirant asserts that "the solution for Iraq belongs to the Iraqi people and, having taken a side, we can't hope to be seen as peacemakers. Our brave soldiers have been trained to obey political decisions and they will continue to believe in the wisdom of their leaders and they will continue to suffer casualties until we get the political will to stop sacrificing them. "Each life lost makes it a moment too late! I for one," Alexakis continues, "have resolved that the decision to invade Iraq was factually unsupported and wrong and we are now suffering the consequences of those political mistakes, and that it can't be made right no matter how many American lives we sacrifice."
Reflecting on his ideas for a better Maryland, Kostas Alexakis sums up his proposals by acknowledging that we live in a world of opportunity and that we can choose how it evolves. He is also convinced that we can choose a future that includes: protecting our people against disasters, be pro-business and also safeguard our environment, becoming good neighbors, providing quality public education and affordable health care for our citizens and making good on the promise to provide retirement benefits to all those who have faithfully contributed their life's work before us.
A boater and a pilot, Kostas Alexakis makes Arnold, MD his home, with his wife, attorney Laura Faibish and his eight- year-old daughter, Eleni.
For more information please go to Alexakis For Congress
For information Call Bob Nicolaides 917-501-3932
###