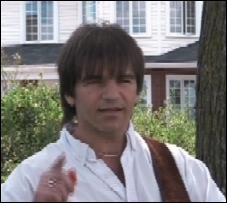 If you are interested in getting your own Prosperity Automated System, you are not the last one. You will get paid for sales from it. With PAS, you can earn money online to achieve your goals. There is no better solution than a hands-free business supported by team leaders. Ask for a call from them. It's free, and they are fantastic
Quebec, Canada (PRWEB) August 21, 2006
Mike Beo is a student in medical research who will get his Ph.D. degree from the faculty of medicine at the beginning of 2007. Prosperity Automated System (PAS) was his second best investment after his education.
Mike Beo spent 10 years at the university to be a microbiologist and specialize in cancer and sexually transmitted infections. He also studied as a programmer analyst and learned management and marketing.
"My studies were my best investment, and my second best investment was certainly buying the Prosperity Automated System marketing website. Now I can earn money online and get paid directly. This will help me to pay back all my debts for my studies in a few months instead of ten years. So join PAS with me, and I'll give you all my tools to success," he said. Visit http://www.cashhityou.com for more information.
PAS founder Bill Osterhout's TV interview on PAS should be aired in mid August 2006. Then the interview will air on CNN and Discovery in 50 key markets in the US. The new Prosperity Automated System website was launched this summer at the beginning of July and is worth $5,000 USD. Moreover, every member can ask their sponsor to receive a second brand new website graciously offered by The Mega Wealth PAS Group. Visit http://www.mikebeocash.com
Wednesday, August 9 a new PAS movie was launched by all member sites.
"If you are interested in getting your own Prosperity Automated System, you are not the last one. You will get paid for sales from it. With PAS, you can earn money online to achieve your goals. There is no better solution than a hands-free business supported by team leaders. Ask for a call from them. It's free, and they are fantastic," Beo said.
For additional information on Prosperity Automated System, contact Mike Beo or visit http://www.mikebeo.com.
About Mike Beo
Mike founded BEO R.M. enr. in 1999 to fund medical research. His dream from the deepest part of his heart is to eliminate HIV from the earth.
Contact:
Mike Beo
BEO R.M.
418-521-3203 pager
skype: mikaub
http://www.cashhityou.com
Licensed owner of the Prosperity Automated System
# # #