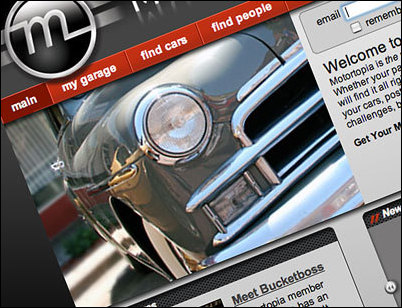 Motortopia.com has exceeded our expectations in growth and traffic in the short time since the site has gone live. The feedback from members and at car shows has been overwhelmingly positive
Lincoln, NE (PRWEB) August 23, 2006
Motortopia.com, a one-of-a-kind Web 2.0 online community for motor enthusiasts, launched June 21, 2006. The Web site caters to people who are passionate about their cars, bikes, boats and planes. The site focuses on showing off what's in members' garages and includes online social networking features that allow members to connect with others who share their passion.
The site gives enthusiasts a place to show off their cars, motorcycles, boats, and planes. Motortopia members are able to create a virtual garage. In their garage, they can add photo slideshows of their vehicles, list details such as modifications they have made, write about projects and road trips in their journal, and keep track of maintenance records in a private log book that they can print later for a full history of the vehicle when sold. Members also have the privilege of buying and selling vehicles and parts on the site to fellow motor enthusiasts, for free.
A popular way members interact on the site is by initiating and participating in challenges (Challenges). The "challenge" section is like a one-on-one competition. A vehicle is up against another for bragging rights to see which is the coolest or most esteemed. Members vote on the style and performance of the vehicles as well as their overall preferences. Comments can even be posted on each challenge for other members to read. Votes are calculated and when the challenge is over, members receive an ongoing win/lose record on their profiles.
"Motortopia.com has exceeded our expectations in growth and traffic in the short time since the site has gone live. The feedback from members and at car shows has been overwhelmingly positive," said Christopher Anderson, Director of Business Development.
In an effort to help the community grow, Motortopia.com has partnered up with Groit's Garage and RacingTours.com (Contest). Simply by getting 4 fellow enthusiasts to sign up on the site by October 2, 2006, a member will receive one of three car care products provided by Griot's Garage. That member will also be entered in a drawing to win a RacingTours.com trip to Phoenix for three nights and three days of NASCAR™ racing.
In July, Motortopia.com paired up with Jalopnik.com to host their "Rate-a-Camino" contest where Jalopnik readers submitted photos of Caminos and voted on Motortopia.com for the best one. The person who submitted the highest rated Camino received a $50 gift certificate from eBay Motors.
Motortopia.com is newly launched and is growing every day and continues to add new features. Check the site out at Motortopia.com.
# # #