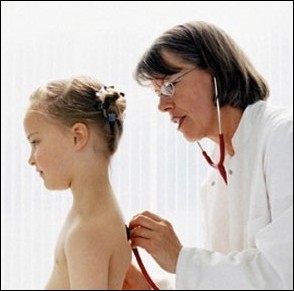 The true reward is knowing that there is something we can do to make these children's lives just a little easier. There's no reason why medicine should add more trauma to the life of a child who is already scared and not feeling well.
Bethesda, MD (PRWEB) August 23, 2006
Even though it is the most common inherited cause of mental impairment, Fragile X Syndrome is still widely unknown to the general public. Affecting nearly 1 in 3600 males and 1 in 4000 to 6000 females, individuals with Fragile X typically display significant intellectual disability, which can range from learning disabilities to severe mental retardation and autism. In addition, both males and females with Fragile X exhibit a variety of physical and behavioral characteristics. With genetic research and the launch of the Human Genome Project in 1990, the gene responsible for Fragile X, FMR1, was identified in 1991. Despite this information, currently there is no cure or gene therapy available for Fragile X. However, medications to help aggression, anxiety, hyperactivity, and poor attention span are viable treatment options for many patients in controlling the effects of Fragile X.
Behavioral characteristics of Fragile X can include autistic behaviors, attention deficit disorders, speech disturbances, hand biting, hand flapping, poor eye contact and unusual responses or hypersensitivity to stimuli. Because the impact of Fragile X can be extremely varied for each individual, therapy is determined per patient and must be carefully tailored to his/her needs. Common medications used to treat seizure disorders and mood instability such as Phenobarbitol and Valproic Acid, attention deficit and hyperactivity such as Ritalin, Adderall and Concerta, and antipsychotics such as Risperidone and Olanzepine, can play a key role in treating Fragile X-related behavior problems. But the key to a medicine working is making sure that it is actually swallowed.
No matter how strong the powers of persuasion, convincing a child to take a medication can be extremely challenging. Add to that behavioral difficulties, lack of understanding and uncontrollable reactions and imagine the stress and anxiety a child with Fragile X experiences during medicine time. Adding a scientifically developed flavoring designed specifically for medications to combat the unpleasant taste and smell of medications can make medicine time much more pleasant and more bearable. The FLAVORx system uses traditional flavors such as Grape, Cherry and Watermelon, as well as unique flavors such as Orange Cream, Butterscotch and Pina Colada to ensure that patients of all tastes and preferences are able to have a medication in a flavor of their choice. Nearly all liquid medications prescribed for Fragile X can be flavored successfully, and tablet and capsule medications can be converted to suspension and easily flavored. To date, FLAVORx has flavored over 40 million prescriptions without any incidence of allergy, adverse reaction or changes in efficacy. Safe for all children, FLAVORx flavors are FDA-approved, non-allergenic, sugar-free, sodium free, phosphate free, alcohol-free, dye-free and extremely concentrated so even a large bottle of medication only requires a minuscule amount of flavoring and does not disturb the dosage.
As a parent of a child with cerebral palsy himself, FLAVORx President and CEO Kenny Kramm understands firsthand the importance of making medicine palatable, not only for improving health, but also for improving quality of life. Kramm notes, "The true reward is knowing that there is something we can do to make these children's lives just a little easier. There's no reason why medicine should add more trauma to the life of a child who is already scared and not feeling well."
Aside from pharmacotherapy, treatment of Fragile X is also concentrated on special education, speech and language therapy, and behavioral analysis.
Fragile X is an "X-linked" disease located on the X chromosome and passed through inheritance. 1 in 250 women and 1 in 800 men carry the fragile X mutation, meaning that every child born to a female carrier has a 50% chance of receiving the mutation, and a male carrier passes the mutation on to all his daughters. Many researchers view the discovery of the FMR1 gene and the study of Fragile X as a gateway to understanding other disorders related to brain development and function such as autism, hyperactivity and mental retardation. The FMR1 gene is also linked to Fragile X-associated tremor ataxia syndrome (FXTAS), which affects balance, tremor and memory in males, and Fragile X-related premature ovarian failure (POF), which can lead to infertility and early menopause in females.
For more information, please contact Teresa Chen at 800.884.5771, extension 234.
# # #