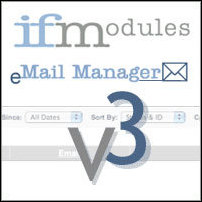 Hobe Sound, FL (PRWEB) August 23, 2006
IFModules (ifmodules.com), a provider of user friendly, web-based email management solutions for businesses, has released eMail Manager 3, an email response management software that efficiently controls company emails, improves email response rates and securely manages corporate email. Its newest release has strengthened the infrastructure with high availability and secure technologies to provide better protection of emails and related data. Customers can try it free by requesting a 15 day full access trial online at http://www.ifmodules.com/eman.
Any company that has been besieged by viruses, suffered long periods of down-time, lost data from compromised email systems or been the victim of data theft understands the negative economic impact non-secure systems can have on the bottom line. eMail Manager 3 helps protect against all of these scenarios and keeps the integrity and privacy of your email. Email security features include: SSL encryption of all data, dedicated Cisco firewall, redundant Dell PowerEdge servers and a high availability clustered database, all in a professionally managed data center in Houston, Texas. eMail Manager also uses virus and spam filters from SpamAssassin, one of the most effective spam filters available.
eMail Manager can be quickly set up and deployed with its easy to use web-based interface. With three levels of users, eMail Manager allows administrators full use of reporting features, branding, user management, account management, email organization with rule-based email routing, auto-responder features and more. Users can access specific emails, respond to them, send new emails and add notes. Response times are cut in half with auto-responders and standard reply selections. Global communication is made possible with support for multiple foreign languages.
eMail Manager 3 is available as a hosted subscription service with fees based on space requirements. The number of users is unlimited. Prices start at $50 a month. Binary licenses are also available to customers requiring in-house deployment.
eMail Manager's growing list of customers includes: The Boeing Store, Brown University, Dr. Clark Research, PBD Worldwide Fulfillment Services and BCD Travel.
ABOUT IFMODULES
IFModules email management solutions provides businesses with web-based email response management and email marketing software so that they can maintain better email control, improve email response rates and get the most out of email marketing campaigns.
IFModules is a division of iguanafarmGroup (iguana-farm.com), a full service web technology group offering custom and off-the-shelf development, design and email business solutions for online and traditional media initiatives. iguanafarmGroup has offices in Hobe Sound, FL, Seattle, WA and Costa Rica.
# # #