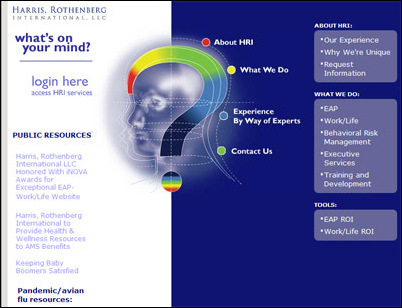 Many organizations feel that there isn't much they can do to prepare for a pandemic outbreak
New York, NY (PRWEB) August 23, 2006
In response to the ever-present, yet unpredictable, threat of an influenza pandemic and its potentially devastating impact on businesses, Harris, Rothenberg International (HRI), LLC, has created a kit to help employers develop a response strategy based on their existing resources, such as the HR Department and Employee Assistance Program. The kit is available free of charge at HRI's web site, http://www.harrisrothenberg.com.
This easy-to-use kit includes tip sheets, checklists, and resources with useful information for preparing for a flu emergency. It also brings the core issues into focus and helps managers and employees think ahead about steps they will need to take, both mentally and practically, should a flu emergency occur. In addition, the kit provides resources for planning for the well-being of employees and their families.
"Many organizations feel that there isn't much they can do to prepare for a pandemic outbreak," said Marian Manuel, Director of Business Development at HRI. "However," she continued, "our new kit will get organizations started in planning both to protect their employees' health and to do business during a flu emergency."
About Harris, Rothenberg International, LLC
Harris, Rothenberg International (http://www.harrisrothenberg.com) is a performance management firm. HRI helps employers solve their most challenging and complex people issues by removing the barriers that prevent organizations and employees from achieving their best. HRI accomplishes this by delivering executive services, employee and employer assistance programs, work/life services, behavioral risk management, training, and other programs. Founded in 1982 and headquartered in New York City, HRI is one of the oldest and most well-respected firms of its kind.
This press release was distributed through eMediawire by Human Resources Marketer (HR Marketer: http://www.HRmarketer.com) on behalf of the company listed above.
# # #