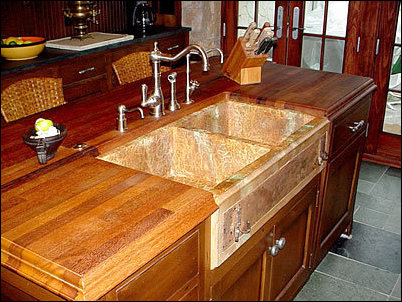 People who favor concrete are typically tired of what they have. They want something they can play with and design. Concrete isn't this or that it can be so many things
Yucaipa, CA (PRWEB) August 25, 2006 –-
Many homeowners and designers are finding that concrete sinks are a great addition to any home interior, and are perfect for creating one-of-a-kind architectural pieces. For years, concrete artisans have been transforming the look of concrete to include various shapes and colors. The Concrete Network, the largest and most comprehensive source for concrete information on the web, offers a concrete sinks and vessels section detailing the many options available for creating concrete basins that will shape-up any kitchen or bathroom. Read the latest information, get design ideas and answers to frequently asked questions, and view full color photos.
Americans are remodeling like never before, and two rooms most frequently remodeled are the kitchen and bathroom. Remodeling provides multiple benefits from increasing the value of your home to providing you and your family with years of enjoyment. Because concrete can be poured to shape any form, concrete fits the bill for any type of sink imaginable. Whether it's square, rectangular, oval, round, or integral, concrete can be shaped to blend into any décor and style. It can be created with perfect angular lines or soft curves, and there are a range of colors to choose from to complement your fixtures, faucets, walls and tile— the possibilities are endless.
"People who favor concrete are typically tired of what they have. They want something they can play with and design. Concrete isn't this or that it can be so many things," explains Patricia Bigelow of Hollow Rock Designs in Minnesota.
There are three commonly used types of sinks to choose from. They include pedestal, vessels and integral sinks, each with their own features and design possibilities. More and more architectural concrete companies are offering their own sink lines. You can view images in The Concrete Network's photo gallery of concrete sinks and vessels.
Established in 1999, The Concrete Network's purpose is to educate consumers, builders, and contractors on popular decorative techniques and applications including stamped concrete, stained concrete floors, concrete countertops, polished concrete, and much more. Over 872,000 visitors researched The Concrete Network Web site in June, 2006.
The site excels at connecting buyers with local contractors in their area through its Find-A-Contractor service. The service provides visitors with a list of decorative concrete contractors throughout the U.S. and Canada, and is fully searchable by 22 types of decorative concrete work and 199 metropolitan areas throughout North America.
Article photo courtesy of Hollow Rock Designs. Attached photos courtesy of Livingstone Studios and Grotto Designs.
# # #