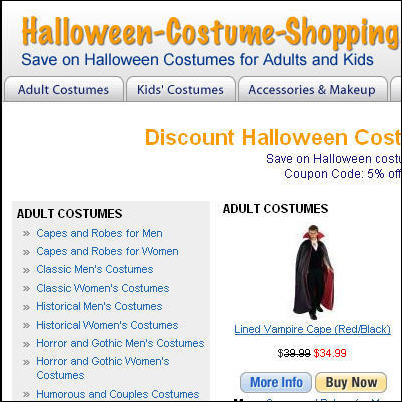 Austin, TX (PRWEB) August 24, 2006
Halloween-Costume-Shopping.com has all the latest costumes for every family member – from mom and dad to brother, sister, baby, and even Rover! The site allows visitors to order a Halloween costume from thousands of costume options. Accessories, make-up, hats, masks, and wigs are available to complete each costume. The site features a coupon code for early Halloween shoppers that saves them 5% off orders of $40 or more. This code is valid even on costumes that are already on sale. Most costumes on the site will ship the day after they are purchased.
Based on early Halloween costume sales, Halloween-Costume-Shopping.com deems the most popular discount adult Halloween costumes this year to be discount pirate Halloween costumes. Old standbys, including vampires, superheros, and witches, are also selling like crazy. Halloween-Costume-Shopping.com features over 1,700 costumes for adults. Whimsical accessories, such as plastic Superman hair and muscle chests, vampire fangs, and fairy wings, are available to make sure each costume will be a huge hit.
Popular discount kids Halloween costumes this year are pirates, vampires, witches, and fairies. Halloween-Costume-Shopping.com features over 1,000 costumes for kids. An emerging trend in Halloween costumes is Tom Arma Halloween costumes for infants and toddlers. These costumes are unisex, and feature adorable creatures such as tigers, monkeys, lady bugs, and pumpkins. "I thought the Tom Arma costumes were a bit expensive," said Sherry Jones, site visitor, "but I realized that I can buy one for my baby this year and re-use it when our next child is born. The hand-me-down possibilities plus the coupon code and sale price convinced me to order – and I'm glad I did because the costume I bought is already sold out!"
As trick-or-treating has grown in popularity to include the family dog, Halloween-Costume-Shopping.com also features 73 unique pet costumes. Make a splash at your Halloween party by having Rover in costume!
Halloween-Costume-Shopping.com is the perfect place to outfit the whole family for Halloween. With discounts on thousands of Halloween costumes and a coupon code, those who act fast and order early can get their hands on a great Halloween costume at a great price.
About Halloween-Costume-Shopping.com:
Halloween-Costume-Shopping.com was created by a couple of parents who realized that they wanted more selection than what the local store offered in costumes for themselves and their kids. They found that ordering Halloween costumes online and early could not only give costume buyers access to a huge selection of costumes, but could also save them a great deal of money with sale prices and coupon codes.
###