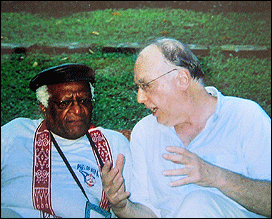 The Archbishop is an inspiration to me and will, I know, help deepen and broaden our mission
Washington, D.C. (PRWEB) August 28, 2006
On a recent trip to Bali, Dr. James Gordon, Founder and Director of The Center For Mind-Body Medicine and former chair of the White House Commission on Complementary and Alternative Medicine Policy, spoke to activists about Mind-Body Medicine as a vehicle for healing psychological trauma, reaching understanding despite cultural differences, and learning to work collaboratively. While there, Dr. Gordon met Archbishop Tutu and the two found they had much in common -- a love of peace, dancing, and a profound compassion for human suffering.
Dr. Gordon asked the Archbishop for his wisdom and guidance, especially with regard to expanding CMBM's Global Outreach Program into Africa. This led to Desmond Tutu accepting a position on CMBM's Advisory Board, providing the organization with yet another powerful ally. "We are delighted and honored," Dr. Gordon said, "The Archbishop is an inspiration to me and will, I know, help deepen and broaden our mission"
Established in 1991, CMBM is particularly devoted to making self-awareness and self care central to medicine and to healing population-wide psychological trauma caused by violence and war. The CMBM's Healing the Wounds of War program offers a unique professional training to healthcare practitioners and community leaders who want to heal their own trauma and bring this effective, respectful and empowering approach to their communities. The scientifically validated approach, which combines methods of psychological self-care, mind body medicine and group supports proving highly effective in the treatment and healing of generalized anxiety disorder, post traumatic stress disorder, and ongoing depression.
CMBM has sent missions to the former Yugoslavia, Israel, and Gaza. In Kosovo CMBM trainees have created a country wide sustainable program—more than 600 professionals have been trained--which is central to the community mental health system. In Israel and Gaza an expanding network of almost three hundred professionals are providing ongoing psychological support and reducing anxiety, enhancing optimism and decreasing anger among Israelis and Palestinians. Expansion of the Global Outreach Program into Africa will allow CMBM to begin the next stage of its strategic worldwide mission -- touching and helping to heal all communities and nations in pain.
The Center for Mind-Body Medicine is a non-profit educational organization dedicated to reviving the spirit and transforming the practice of medicine. The Center is working to create a more effective, comprehensive, and compassionate model of healthcare and health education. The Center's model combines the precision of modern science with the wisdom of the world's healing traditions to help health professionals heal themselves, their patients, and their communities.
For more information, or to find out how you can support CMBM's mission, please contact:
Namrata Mehta, Director of Public Relations, The Center For Mind-Body Medicine, (202) 966-7338. http://www.cmbm.org
# # #