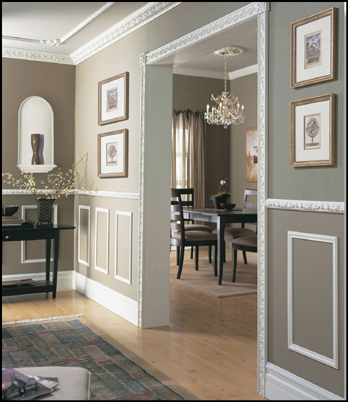 You want to make sure that when people drive up to your house, it looks good
(PRWEB) August 29, 2006
As the real estate market slows, it of course becomes more competitive. When a home is being appraised, or when a buyer is comparing one house to the next, there are seemingly subtle differences, such as paint, flooring or carpeting, or the addition of polyurethane moldings, that will go a long way toward increasing a home's appeal and bringing that buyer closer to a sale.
"An appraiser will add or subtract over the comparable value, based on the amenities one house has over another, or the detriments," says Dr. David Rizzo, a 25-year veteran real-estate broker.
Paint is a very basic and important finishing aspect, and is especially effective when colors are carefully chosen to accent each other and the job itself is done with care.
Flooring, another element the buyer or appraiser is going to notice right away, is also vital. Refurbished or new carpets should be coordinated with the rest of the interior design. If floors are to remain bare, they should be tastefully done in hardwood, faux hardwood or, if appropriate, linoleum or tile.
Architectural moldings, especially crown molding and base molding, add a finished look to a room and also give it an extra beauty and interest. Other types of architectural moldings, such as chair rail, window and door moldings, wall niches, and medallions, can be added as they fit into the overall decor.
Architectural moldings are available in a number of materials, but polyurethane moldings, from manufacturers such as Architectural Ornament, make it possible to add this touch accurately and easily. Polyurethane moldings are very light yet dense, making them more convenient to install. Crown molding and others can be installed as-is or have a finish applied, such as wood grain, color wash, or metallic finish.
The outside is equally if not more important than the inside of a home, as that's the first view your appraiser or prospective buyer is going to see. The degree of a house's attraction as seen from the street is known as "curb appeal", the allure the house has to a prospective buyer as they drive by or when the pull up to the home.
As with the interior, a well-done exterior paint job is important and can markedly improve the appearance of a house. So can exterior polyurethane moldings--an inexpensive, easy way to add class to the outside of your home. And because of polyurethane's durability it's elegance that's also going to last.
Improving the curb appeal also includes landscaping elements such as a green, manicured lawn, flowerbeds, trees and shrubs. Other items can be added, such as decorative brick, paving stones, fencing and water features.
Attention to detail for both the interior and the exterior make the whole package. "You want to make sure that when people drive up to your house, it looks good," adds Dr. Rizzo. "You want that instant liking--that first impression is important. If prospects see a house with great curb appeal, then walk into it and see elements like polyurethane moldings that make it a little bit nicer, it's that much more likely that they will buy."
For more information:
Architectural Ornament
Andre Delmas
55 Bradwick Drive
Concord, Ontario
L4K 1K5 Canada
http://www.architectural-ornament.com
Phone: 905-738-9459; 1-800-567-3554
Fax 905-738-6734
###