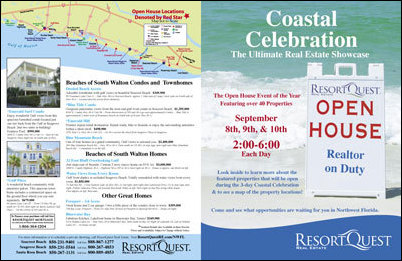 ResortQuest is a predominant force in the marketplace, and this event proves that we will proactively continue to be a driving leader in Northwest Florida
Destin, FL (PRWEB) August 26, 2006 –
On the dates of September 8th, 9th, and 10th, ResortQuest Real Estate in Northwest Florida, featuring the vacation hot-spot of Destin, is hosting its Coastal Celebration—the "Ultimate Open House" event celebrating real estate along the beautiful Emerald Coast.
There's a reason to celebrate since now is the best time to buy property on the Gulf Coast. Carmela Bell, Managing Broker for ResortQuest Real Estate, explains that the recent correction in the market which was inevitable after the real estate "frenzy" has created opportunities for those with long-termed Northwest Florida real estate goals, including Destin, Florida. Now is the best buyer's market in quite some time. She adds that even with higher inventories on the current market some properties are "priced to sell" and it is allowing potential buyers who had previously been priced out of real estate to find affordable purchases.
With price reductions and a variety of Northwest Florida real estate, searching and purchasing real estate can be overwhelming. Therefore, ResortQuest Real Estate has decided to do something it has never done before and host an event showcasing a sampling of their property listings. ResortQuest has gathered a variety of over forty different properties in the area: homes, condominiums, townhomes, cottages, rental buildings, and new construction. With many "great buys" in the market today, a prudent buyer wants to consider their various options to determine the "best buy" for them. This "Ultimate Open House" event allows those who desire to own real estate on the coast a convenient way to evaluate their opportunities. During the hours of 2:00-6:00 on all three days of the event, these properties will be held open for viewing. Knowledgeable sales associates are available to answer questions or just chat about this dynamic real estate market, past present and future. Visitors will be able to view the featured properties and to enter a contest to win a weekend stay at a gulf front resort or a gift certificate to a local restaurant.
This unprecedented opportunity is the time for buyers, vacationers, or just curious locals, to discover what Northwest Florida has to offer. "ResortQuest is a predominant force in the marketplace, and this event proves that we will proactively continue to be a driving leader in Northwest Florida," concludes Pat Lueders, Destin Area Sales Manager.
For more information or to get a list of featured properties and a map denoting their locations, stop by a ResortQuest sales office or visit our website at ResortQuestRE.com/NWFL.
About ResortQuest
ResortQuest, one of the nation's leading vacation rentals hospitality and resort real estate companies, provides a one-stop resource in North America's premier resort destinations, ResortQuest.com. ResortQuest is the largest marketer and management company of vacation condominiums and vacation rentals in the U.S. and Canada, based on a portfolio of nearly 17,000 vacation rental properties with a combined real estate value estimated at approximately $7 billion. ResortQuest Real Estate is one of the nation's leading real estate companies focusing exclusively on resort properties, offering superior brokerage services in the country's premier beach, ski and golf destinations. ResortQuest employs more than 4,000 people and is owned and operated by Gaylord Entertainment Co. (NYSE: GET), one of the largest and fastest growing companies in the hospitality and entertainment industries, based in Nashville, Tenn., that also owns and operates Gaylord Hotels and the Grand Ole Opry. For more information, visit ResortQuest.com or GaylordEntertainment.com.
# # #