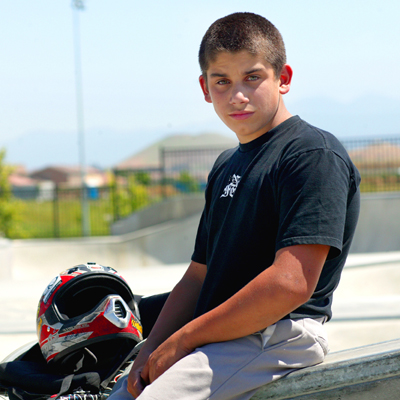 I don't think of it as practice, I think of it as a fun way to live my life.
Las Vegas, NV and Corona, CA (PRWEB) August 30, 2006
Aaron Fotheringham is one of a small, but growing group of elite wheelchair athletes. Aaron is a 'wheelchair skateboarder', or as he prefers to call himself, a 'Hardcore Sitter'. Wheelchair skateboarders do with their wheelchairs, what other athletes do with their skateboards. They make spectacular leaps and jumps from amazing heights and try not to injure themselves in the process. But Aaron has accomplished feats in his wheelchair, which no person has ever done before. Last year, he astonished the community with a mid-air 180 degree turn. Then last month, at the age of 14, Aaron became the first person in history to do a back flip somersault in a wheelchair. See a Video of Aaron Fotheringham's Wheelchair Back Flip .
In a recent interview, Aaron discussed his record breaking backflip with Dr. Gene Emmer of NewDisability.Com. Aaron told NewDisability that it took about 50 or 60 jumps into cushions, before he attempted a jump onto a ramp. Then after another 15 further attempts, sometimes resulting in getting knocked out, he managed to make a successful landing. Since then he has accomplished about 20 to 25 successful backflips.
Others have tried to make the jump but, according to Aaron, have not gotten the full rotation even into the foam cushions.
Aaron's jumps have been costly. He has broken his elbow and gotten more than a few bumps and bruises, as can be seen in a video on the Colours Wheelchair Website which documents some of his extreme wheelchair tricks.
John Box, of Colours Wheelchairs, Aaron's sponsor, said, "Everyone at Colours is proud of Aaron. We are his biggest fans. Aaron works very hard to be the best. We are working closely with Aaron to further develop the Boing! suspension wheelchair so Aaron can keep pushing the limits."
When asked about the many hours of practice Aaron responded "I don't think of it as practice, I think of it as a fun way to live my life." See the full interview with Aaron Fotheringham on the NewDisability.Com Website
###