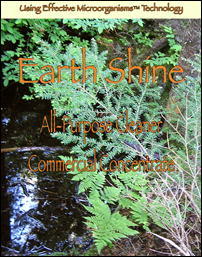 Alto, TX (PRWEB) August 29, 2006
EM America has released Earth Shine All-Purpose Cleaner, the first cleaner in the United States that utilizes Effective Microorganisms Technology™ to clean and deodorize.
It appears more and more people in the United States are chemically sensitive and cannot tolerate anything synthetic. Many of our customers often use EM•1® to break down chemicals in their home, clothes, automobiles, etc., so they can be free of headaches and nausea. EM America began to develop a cleaner to satisfy our customers' request for a solution that used the incredible Effective Microorganisms Technology™, knowing it would be safe for the earth. This month EM America released Earth Shine All-Purpose Cleaner. Keeping with the goal that EM America produce and promote sustainable technologies, Earth Shine is made with 5 all natural ingredients and sold in fully recyclable packaging. Earth Shine is free of preservatives and colorants too.
In a world that continues to produce harmful substances to clean and bleach with oxidative compounds, Earth Shine follows a different path and uses EM Technology™ to clean with the power of ANTI-OXIDATION. Antioxidants (vitamins and minerals) do not corrode surfaces and can eliminate odors. It turns out that they can also do a great job cleaning. Earth Shine combines magnetically conditioned water, herbal extracts, essential oils, and natural soap with EM Technology™. All the ingredients in Earth Shine are food grade, making it safe for all surfaces, people, pets, and the earth. Lavender has been used in cleaning for centuries. The Pilgrims used to hang their laundry over plantings of the herb because of its pleasant scent. Lavender also grows very well in the desert where Earth Shine is made. EM•1® is approved for organic production without restrictions (OMRI Listed) and the lavender used in the extract is grown organically with EM•1® and composts made with EM•1®. EM Technology™ provides enzymes, vitamins, minerals, and bacteriocins. Earth Shine is the first cleaner to use all of these unique ingredients to clean and deodorize.
Earth Shine comes in three sizes: a 16-ounce ready to use spray bottle for $6.99, a 1-quart refill for $8.99, and a 1-gallon concentrate for commercial uses for $24.99. Earth Shine is available for use on all food preparation surfaces as well as floors, walls, countertops, windows, and any other surface. We have been sending out samples for people to test and we are getting some great feedback. One customer told us he used it to clean grease out of grout that had not been sealed and it took it right out. It takes soap films off of windows and mirrors that you wouldn't have known they were there before using it.
EM America is the exclusive sales and marketing company of EM•1®, PROEM•1 Probiotic, Dr. Don's Antioxidant Oral Hygiene Products, and EM•1® Rice Bran Bokashi in the continental United States, Canada, and Puerto Rico.
Contact EM America for products, technical service, and availability of all products bearing the EM logo (recently recognized as a famous Japanese trademark) and consulting: (866) 369-3678. Or visit our newly designed website at: http://www.emamerica.com/data.
EM•1®, EM-X, and the EM Logo are property of the EM Research Organization in Okinawa, Japan.
###