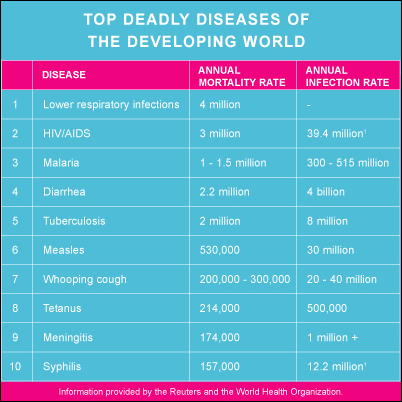 Bethesda, MD (PRWEB) August 30, 2006
The World Health Organization's 2005 World Health Statistics reported a rather dismal outlook for health and spread of disease across countries worldwide. Unfortunately in most areas, there has been little improvement in mortality rates, with some even on the rise. Furthermore, limited availability of health government expenditure on healthcare is relatively limited in many countries, some spending as little as 2-5% on its national health initiatives. As such, studies have recently identified the 'Top 10 Deadly Diseases of the Developing World,' and efforts need to be made to combat the spread of infection through cost-effective and manageable methods.
One of the major contributors to persistent symptoms and spread of infection is medicinal non-compliance. Sadly, even when developing countries are fortunate enough to receive aid needed to fight disease, medications can become useless if patients fail to take them correctly. Proper education and techniques should be followed to ensure that patients are taking medications according to the proper dosing instructions. Skipping doses, spitting out medications and mixing medications with food or drink that affect efficacy are among the common causes of non-compliance. A readily used, inexpensive, safe and easy to implement solution to noncompliance, especially in children, is flavoring. Flavoring has been shown to increase compliance from 53% to over 90%. The addition of a scientifically-tested flavoring developed specifically for medication, such as FLAVORx, can resolve the difficulty that can arise with ingesting unpalatable liquid and hard-to-swallow pill and capsule medications.
The list of Top Deadly Diseases includes:
1. Lower Respiratory Infections: Most of these infections are viral in nature and in more serious cases can lead to bronchitis, infections involving the lungs and pneumonia. However, bacterial infections can be treated with penicillin and tetracycline and a host of other antibiotics, which can be easily flavored in FLAVORx flavors such as Grape and Watermelon.
2. HIV/AIDS: The World Health Organization estimated that roughly 3 million children around the world were living with HIV in 2005. Of the 3.1 million people who died of AIDS last year, over half a million were children aged below 15 years. Most HIV/AIDS patients are prescribed antiretroviral medications, which are often regarded as extremely bitter, metallic and virtually unbearable. FLAVORx has developed flavorings to combat the unpalatability of antiretrovirals and continues to conduct expanded studies with children in Thailand and the Dominican Republic. Organizations such as the Gates Foundation fund projects to decrease the devastation of the disease and develop methods to eventually eradicate the disease.
3. Malaria: It is estimated that between 350 and 500 million cases of malaria occur every year, resulting in at least one million deaths worldwide. Unfortunately, the horrible taste and smell of most malarial medications is a major hurdle in convincing patients to swallow anti-malarials. FLAVORx has developed a system that converts these anti-malarial tablets into a liquid suspension then successfully flavors them so that it is readily swallowed by young children.
4. Diarrhea: Roughly 2.2 million people worldwide die from diarrhea each year. Causes include food intolerances, reactions to medicine, bacterial and viral infections, parasites, intestinal diseases and general bowel disorders. Coating agent, typically in oral suspensions, are recommended to control diarrhea. These solutions can be easily flavored in FLAVORx flavorx such as Raspberry, Grape and Orange Cream.
5. Tuberculosis: TB is a bacterial disease that usually affects the lungs. However, TB can spread to the brain, spine and kidney and become fatal if not treated properly. The most common medicines used to treat TB are isonaizid, rifampin, ethambutol and pyrazinamide.
Rounding out the list of deadly diseases are measles, whooping cough, tetanus, meningitis and syphilis. Especially in the case of highly infectious diseases, the important message to remember is to take medications properly as prescribed. Doing so not only reduces symptoms, but also decreases the possibility of infecting others greatly and eliminates the possibility of personally becoming re-infected or symptomatic again. Healthcare practitioners commonly set guidelines for when it is safe to be in the company of others without the threat of spreading the disease.
FLAVORx is available in more than 35,000 pharmacies nationwide including Walgreens, Wal-Mart, CVS, Rite-Aid and Target. The technical arm of the company, the FLAVORx Research Institute, is able to work directly with research institutions and pharmaceutical companies to improve palatability of medications. For more information, please visit http://www.flavorx.com or contact Teresa Chen at 800.884.5771 extension 234.
###