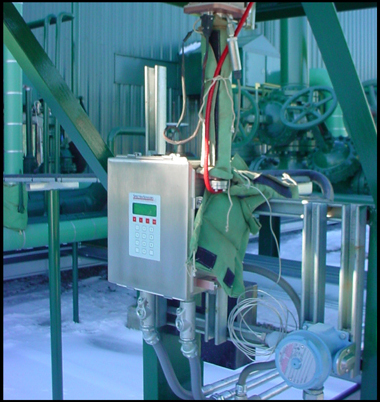 but whenever I do that the laser-based analyzer is so close to dead-on that it could be the chilled mirror that is a couple of tenths off.
San Dimas, CA (PRWEB) August 30, 2006
The inability of most sensors to accurately measure the moisture in natural gas remains a major problem for producers and pipeline operators everywhere today. Wet gas can cost millions of dollars every day in shut-ins, end-user problems, law suites and even pipeline damage -- all for want of a reliable and trouble-free moisture analyzer.
"It's just a matter of time before conventional sensors start giving erroneous readings, and the problem will worsen until it is repaired or replaced," says Mark Smyth, a moisture analyzer specialist whose firm, Smyth Analytical Services (Okemah, OK) performs on-site hydrocarbon and moisture dew point analysis of 'natural gas' utilizing the U.S. Bureau of Mines chilled mirror hygrometer method.
A veteran of the natural gas industry for almost 40 years, Smyth troubleshoots gas contamination problems and teaches the chilled mirror technique all over the world. He travels to producer and pipeline locations to verify the analyzers of various clients, usually on three-month cycle.
"In all of the time I have been doing this, there is only one natural gas analyzer besides the chilled mirror that I can say with confidence is consistently accurate: The SpectraSensors laser-based moisture analyzer," Smyth says.
He explains that while most natural gas sensors are affected by the contaminants in the gas, making them sometimes grossly inaccurate sometimes within just weeks, the SpectraSensors laser-based moisture analyzer is not affected by contaminants, and is accurate within a few tenths of a pound for long periods of time.
"Of course, the only way to prove the accuracy of the laser-based analyzer is using the chilled mirror comparison," Smyth says, "but whenever I do that the laser-based analyzer is so close to dead-on that it could be the chilled mirror that is a couple of tenths off."
The first time Smyth ran across the laser-based analyzer was on an offshore site where the contaminants were unusually extensive. "That's the nastiest gas in the world, full of alcohol and extremely rich gas. There is not a single analyzer on the market that can successfully measure offshore natural gas - other than the SpectraSensors analyzer. Nothing else works for any length of time. It's really amazing."
Perhaps equally amazing is the fact that many producers and even pipeline operators still rely on various conventional natural gas sensors. "The smart ones are converting to the laser-based technology," he says. "The initial purchase price is higher, so the market will always be there for the cheaper analyzers. Ironically, the cost of maintaining them is extremely high. That may be okay with some people, but in a critical application they would save in the long run by using the SpectraSensors analyzer. Who knows, they just might save more than the cost difference in a day or less, especially if there is a shut-in because of wet gas. But, of course, some producers don't seem to realize that."
Using a "tunable-diode" laser-based moisture analyzer, the SpectraSensors unit accurately monitors moisture content by precisely measuring the absorbance of light by moisture molecules, thereby measuring the exact amount of water (or carbon dioxide). There are no chemical conversions involved, and no natural gas sensor contact with the sample gas. This eliminates "coating" problems, erratic measurements, and exceeded tariffs.
For more information contact: Sam Miller, Director of Marketing -- Energy Tel: (909) 542-0394 x228 Fax: 909-542-0402 SpectraSensors, Inc. 972 North Amelia Avenue, San Dimas, CA 91773 http://www.spectrasensors.com
###