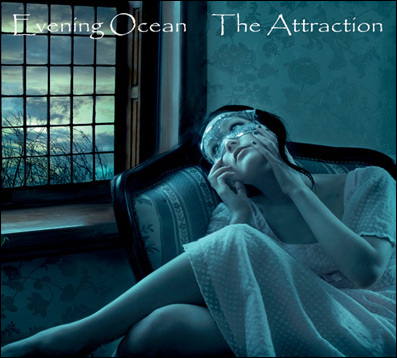 Waiting For You At The Subway Platform
New York, NY (PRWEB) August 30, 2006
After reviewing Evening Ocean's CD: "The Attraction", Rebecca Johnson declared Evening Ocean the "Best New Artist of 2006".
Johnson, the #5 ranked reviewer for Amazon.com, has been profiled in The Wall Street Journal, The Los Angeles Times and Forrester's Magazine.
Evening Ocean's CD: "The Attraction" was released on July 11, 2006. The Attraction was mastered by Don Grossinger who also mastered Brian Wilson's "Smile" on LP. The artwork for "The Attraction" was created by Natalie Shau, who also created CD artwork for Lacuna Coil.
DJ Kent Willocks, host of "The New Dreamers" show on KLCC 89.7 FM in Eugene, Oregon has already played several tracks from "The Attraction" in August 2006.
Rebecca Johnson's review is as follows:
Best New Artist of 2006-(Five out Of Five Stars)
Evening Ocean's The Attraction is a breathtaking masterpiece that inspires complete and utter abandon into musical bliss. The styles shift from ambient to dance and from pure pop to mesmerizing electronica. This magical debut album was mastered by Don Grossinger, who previously mastered projects for Pink Floyd, The Rolling Stones and Faithless.
"The Attraction" instantly connects with deep currents surging from the center of energy itself and in dramatic clarity reveals a musical destiny. Piano moves at a mesmerizing speed, then awakens into a deep ambiance alive with mystery and building passion. The intensity of the desire leaves you pleasantly stunned.
"Senses Awake" is a surprising ancestral fusion, a mingling of earth and sky with days slipping by planets in an inspired soundscape that melts into sublime moments of anticipation. I was left speechless only awaiting the next note moving from earth into a mirror of sound drenched landscapes. This is perhaps one of the most beautiful pieces of music you will ever hear in this lifetime and as it saturates your consciousness you may wish to listen to it again and again. It is the most peaceful place my soul has ever been.
"Waiting For You At The Subway Platform" is a new world of beats and speeding blurs of metallic textures as the music takes off in a fast-paced alchemy. Each moment fully captures your attention as it propels you into vast open spaces.
"Ending" is a sexy pop tempo awakening where a master of moods leads you to lush ecstatic landscapes where cabs wait for lovers on rain-drenched streets. Symphonic and perfectly balanced, "First, The Heights," is a place where strings ascend in sensory swirls and build into a moment of silence.
"Trusting You With Everything" is stirring and beautiful, with inspired undercurrents seeking to draw you beneath into an underwater world. It is as if you are discovering sounds for the first time, uncovering a future of possibility.
"The Note" quickly follows in a sweet silky kiss of sound. Delicate in beauty, it creates the most sublime moment on this album. The dreamy quality leads perfectly into Haze where guitar creates a mood reminiscent of a walk outside beneath the stars.
The awakening in "Friday" is a world of percussion where dance beats create a club energy, but this can also be enjoyed for the dynamic strengths and surrender into sound.
To be lost within is to wander in "Night Walk". This deeply sensual track moves in and out of reality. Film directors will fall in love with this instantly. With rapid pacing and exciting flourishes, you can truly walk into another world. Night Walk is a mingling of supreme beauty interlaced with moments of exquisite curiosity. Stunning and Revelatory! Possibly a vision of the future of music.
"Aurora (Sleepless)" mellows the mood and takes the pace to a tranquil open space as "Waves" delves into World Music and turns the album inside out.
The emotional beauty in "Perfect Summer Sky" perfectly captures longing and passion. Such magnificence is rare and it may provoke the deepest and most exquisite emotions.
"Going Home" defies inertia and has the feeling of a plane taking off to a mysterious destination. "Every Time I Say Your Name" is an angelic and awe-inspiring track that seems to reflect the album's soul. "Share Love" has unique mind bending sounds that complete this musical journey.
Evening Ocean is the most amazing musical discovery of 2006. The stunning artwork and photography by Natalie Shau will make this a collector's item.
The Attraction is truly love at first listen...
http://www.TheRebeccaReview.com
-End CD Review-
Evening Ocean –"The Attraction"
Is available at Amazon.com
ASIN: B000GL196M
To learn more about Evening Ocean:
Visit http://www.eveningocean.com
Media contact: Robert 212-479-8411
###