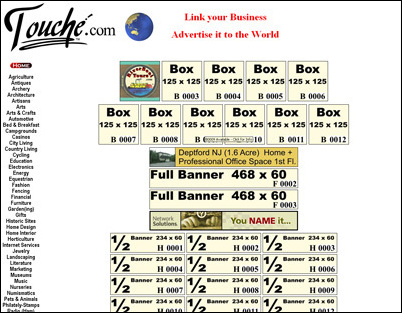 It is our wish that our success will be your success
Mifflinburg, PA (PRWEB) August 31, 2006 -–
Now Internet advertising for business is easier than ever with the launch of Touche.com. This Internet advertising company offers flat-rate banner ads at straightforward prices, allowing business owners to avoid costly per-click fees.
Internet banner advertising is an effective way for online businesses to draw more customers to their sites, but many smaller businesses avoid online Internet advertising because of the unpredictable cost of typical click-through or per-click fees.
Touche.com offers a unique, manageable approach to Internet Web site advertising and is especially valuable for businesses offering specialized products or services that might not find their advertising category included on other marketing sites.
"It is our wish that our success will be your success," says Emre Dluhos, Vice President of Operations. "We will provide some unique categories such as 'artisans' and 'scrimshaw' to allow those advertisers a chance to show off their specialized products or services."
Rates for Internet advertising for business owners will vary based on the size of the banner ad. For example, a 125 x 125 banner on the Touche.com homepage can be reserved for $300 per month. Banner ads on other pages or smaller banners cost less, and customers who commit to three or six months of Internet online advertising will discover even lower monthly rates. A complete price list is available at http://www.Touche.com.
The Internet advertising pros at Touche.com also look forward to offering a Web presence to small, "Mom and Pop" businesses that might not otherwise have a presence for online Internet advertising. Touche.com offers those businesses an opportunity to post text and pictures to establish their presence at straightforward, no-nonsense rates.
"Business owners can feel confident advertising their businesses with Touche.com," Dluhos says. "We will always do everything in our power to enhance customer satisfaction and to provide the best Internet advertising possible."
One of the best features of Touche.com is the predictable, manageable cost of this Internet advertising solution. Business owners will never be surprised to find that their monthly fees are extraordinarily high, as often happens with fee-per-click arrangements. In addition, paying a straightforward monthly fee avoids the possibility of click fraud, in which a competitor or other third party simply clicks on a business' banner ad for the sole purpose of driving up costs for that business.
Touche.com is the Internet advertising for business that e-commerce entrepreneurs have been seeking. This newly launched site provides an effective way to link businesses to potential buyers and is unique in the business categories that are offered. In addition, the straightforward pricing model offers affordable predictability even for businesses that have never felt comfortable advertising on the Web.
About Touche.com:
Touche.com is owned and operated by Touche LLC. They provide banner advertisement solutions for businesses that would like to have a presence online without the headache of per-click pricing. For more information, please visit Touche.com.
# # #