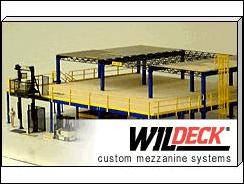 Wichita, KS (PRWEB) August 31, 2006
Ergonomic Solutions, Inc., a storage and material handling equipment distributor, is aware of the storage and workspace problems faced by small and mid-size businesses, and has offered a solution. Wildeck mezzanine flooring systems have been added to Ergonomic Solutions' online catalog as an efficient and highly customizable way to improve storage and add space to a work area.
Brent Engelbert, Service Manager of Ergonomic Solutions, Inc., said, "Successful small businesses often have a need for growth, but not the capital for a second or larger location. Freestanding mezzanine flooring systems are perfect for this situation. They are incredibly versatile, and can be used for offices, additional work space, manufacturing areas, or storage. We offer mezzanine flooring systems because they're well-known for being highly customizable, affordable, and going up fast without interrupting your workflow."
Small and mid-size businesses can customize their freestanding mezzanine flooring systems from Wildeck with:
Railing, stairs, and landings
Swinging or sliding gates
Lifts for loading and unloading
Optional third level that can be added at a later date
To learn more about the versatile Wildeck custom mezzanine flooring systems, visit http://www.ESIDirect.com to view their online catalog. Business owners can also call Brent Engelbert at 316-773-5400 to learn more about mezzanine flooring and other storage and material handling solutions
About Ergonomic Solutions, Inc.
Ergonomic Solutions, Inc. is an innovative material handling equipment distributor that provides professionally engineered products as well as standard material handling and storage systems. Businesses and manufacturers can order professionally engineered material handling equipment that fits their specific business needs online or through Ergonomic Solutions' catalogue. They are located in Wichita, Kansas.
Press Release Marketing by Xeal
###