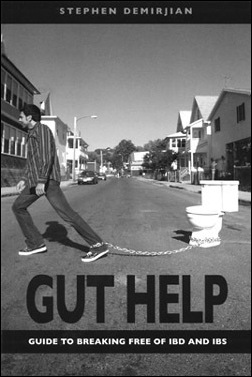 My incredible improvements are meant to be a guide for patients and their doctors
Delray Beach, FL (PRWEB) September 5, 2006
Available the first week of September, Gut Help: Guide to Breaking Free of IBD and IBS by author/consultant Stephen Demirjian, takes a groundbreaking, non-surgical approach to fighting digestive disorders such as Crohn's, colitis and IBS. Based on the author's Gut Help™ program that restored his health and freedom, the book offers a comprehensive method with a focus on mental and social factors in addition to the physical aspects.
Gut Help: Guide to Breaking Free of IBD and IBS (available at http://www.guthelp.com) is the result of Demirjian's twenty years of first-hand experience with digestive illness. The book's cover, which depicts Demirjian walking across a street with a toilet chained to his leg, is representative of the challenges that he himself faced as a victim of colitis. "For me, that sums up what living with a digestive illness feels like," he says. "It was relentless, and with no cure available, it was robbing me of my life on a daily basis. I decided I had to do more for my health."
Eight years of his own trial-and-error research with diets, probiotics and medications allowed Demirjian to create the Gut Help™ program that he details in the book. In addition to a daily regimen, the book offers positive motivation and helpful tips that can allow people to overcome roadblocks and gain control of their health.
Approximately 37 million Americans suffer from Crohn's, colitis and IBS. These people feel the everyday impact on their working life, social activities and well-being. Plagued with symptoms such as painful bloating, cramps, constipation and diarrhea, those who suffer often struggle with embarrassment, frustration, and feelings of isolation and depression.
Demirjian knows that living a "normal" life with digestive illness is often extremely difficult, but he hopes his new book will have a positive impact. "My incredible improvements are meant to be a guide for patients and their doctors," he says, "so that others may break free in a far shorter time."
Mr. Demirjian now divides his time between speaking engagements and his personal coach/consultant service, GH Consulting.
The book, Gut Help: Guide to Breaking Free of IBD and IBS, and Demirjian's consulting services can be ordered at http://www.guthelp.com.
# # #