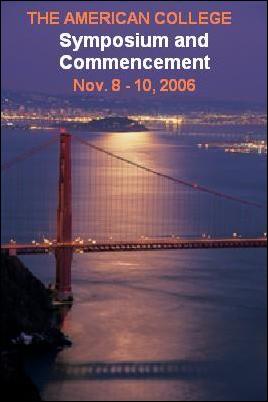 Competitive IRA Strategies – The Edge You Need!
Bryn Mawr, PA (PRWEB) September 5, 2006
More than 76 million baby boomers are preparing for retirement. With an estimated $4.4 trillion of investable assets and possible inheritances estimated at $7.2 trillion, this population represents an unprecedented opportunity for financial advisors interested in serving the needs of mature Americans. To help producers excel in this environment, The American College is offering a one-day information packed seminar called "Competitive IRA Strategies – The Edge You Need!" on November 7, 2006 from 8:00 a.m. to 5:30 p.m. at the Westin St. Francis hotel in San Francisco, California. This remarkable one-day event immediately precedes The College's 2006 Symposium and Commencement. For more information visit http://www.TheAmericanCollege.edu
"Financial advisors will have to compete for baby boomer clients in the coming years," said Larry Barton, Ph.D., President and Chief Executive Officer of The American College. "Those advisors who have invested in education will have the knowledge needed to provide affluent baby-boomer clients with strategic financial solutions. Knowledge provides today's financial practitioners with an indispensable competitive edge."
The educational program is designed for financial advisors working with clients who have accumulated significant pension assets. Attendees will participate in in-depth, high impact learning sessions that examine the tax treatment of pension distributions and IRA rollovers; investment and withdrawal strategies during retirement; and estate planning concerns unique to individuals with significant pension and IRA assets.
Other topics covered by the seminar address how to:
· Increase a client's nest egg just prior to retirement.
· Minimize taxes upon withdrawal.
· Plan under the required minimum distribution rules.
· Choose a safe withdrawal rate.
· Identify the assets to spend down during retirement.
· Use life insurance as a powerful pension distribution-planning tool.
The American College's nationally renowned faculty will present this intensive and rewarding educational event. These individuals are recognized as some of the financial services industry's preeminent scholars in their areas of expertise.
Individuals interested in registering for the event can visit http://www.TheAmericanCollege.edu/edge/default.asp The $299 all-inclusive fee for the event includes all necessary materials, breaks and lunch. Individuals attending The American College's 2006 Symposium and Commencement are eligible to receive a $100 discount on the registration fee for this IRA seminar. Symposium attendees who sign up for this event will also receive complementary admission to the 18th Annual Henry A. Deppe Lecture – a presentation devoted to pension and retirement security issues on November 8.
The American College is the nation's leading non-profit educator of professionals in the insurance and financial services industry. Located in Bryn Mawr, Pennsylvania, The College is a public charity founded in 1927 and accredited by the Middle States Association of Colleges and Schools. The American College offers an array of specialized designation programs, Master of Science degrees in several disciplines and customized continuing education programs predominantly on a distance education basis for those pursuing a career in financial services. For more information, visit http://www.TheAmericanCollege.edu
# # #