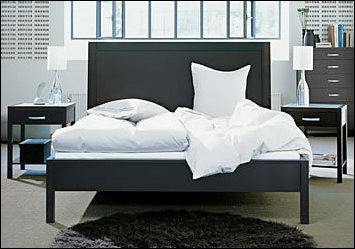 If you like simplicity, you get a low profile bed with no footboard and possibly not even a headboard
(PRWEB) September 6, 2006
Online shoppers can finally save time and frustration by shopping multiple online furniture stores in one place. Focusing on platform beds and matching furniture, BestPlatformBeds.com acts as a portal, complete with reviews, for people looking for the quality and service they need.
The site does not sell beds directly but instead helps people make the right choices; providing information on how to shop for the beds online with links, pictures, comparisons and detailed information on brand name furniture.
"This site was created to answer two main questions I had on my mind while considering a new bed," notes Jeff Cai, webmaster and creator of http://www.BestPlatformBeds.com. First, why do so many people suddenly prefer a platform bed over larger, more traditional bed frames? The answer, according to his research, is simply that the platform bed frame can appeal to almost anyone, anywhere. The stylish frames and sleek designs can create a comfortable, minimalist look at affordable prices. The beds come in a variety of styles to fit almost any individual preference. "It's not surprising that people today are shopping for a bed with a healthy mix of comfort, style and durability," notes Cai. Like all furniture, opinions on what to buy can vary from person to person. "If you like simplicity, you get a low profile bed with no footboard and possibly not even a headboard," Jeff Cai explains, "For the space conscious, a storage platform bed could be your best choice, omitting the need for a dresser or chest to take up your limited room."
While the reason for choosing a platform bed based on style can be clear, the second question is why more and more people are shopping for platform beds online. "The answer is the purpose for BestPlatformBeds.com," according to Jeff Cai. Online shoppers are trying to find a great price and a wide range of choices and a growing majority are doing their research at home. "This is exactly what BestPlatformBeds.com is here for," says Cai. "People are not shopping for platform beds online as much as they are researching platform beds online." Again, BestPlatformBeds.com is not a commercial website that sells platform beds but rather a content-driven web page devoted to providing useful information to help shoppers make better decisions while researching contemporary platform beds online. The site also features an online forum to post suggestions, questions and opinions with fellow shoppers around the world.
As for the potential of the site, Jeff Cai was happy to mention that "One site reported up to 8 sales in their first month of being listed, all referrals from BestPlatformBeds.com. Not only do the listed stores get additional visitors but those visitors are pre-qualified." The site started on a part-time basis but traffic has grown and Jeff is now looking to generate income from both sponsorship advertising and charging marketing fees to online stores to have their platform bed prices featured on his site. As for the necessary criteria to get high rankings and referrals, he follows simple guidelines. "I evaluate each store based on factors such as business credibility, online security, shipping and return policies and, of course, price," he explains, "of the major factors to consider, I would give priority to the security issue and the credibility of the store."
The site was launched in response to the growing popularity of platform beds in North America and its owner hopes it will help more people make an informed decision while shopping for their new bed frame. New stores are being reviewed and added on an ongoing basis.
About the Company:
BestPlatformBeds.com, currently sponsored by Wholesale Furniture Brokers, provides detailed information on different styles of platform beds as well as price comparisons of online platform bed stores.
Contact:
Jeff Cai
250-828-2482
http://www.bestplatformbeds.com
# # #