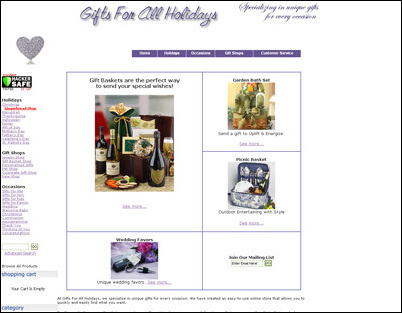 Gingerbread Houses are not just for Christmas anymore
Lisle, IL (PRWEB) September 5, 2006 -–
Everyone loves the warm feelings evoked by a traditional gingerbread house, and now it's easier than ever to share that feeling with friends, family, and business associates. GiftsForAllHolidays.com has added a special line of gingerbread food gifts for the 2006 Holidays.
Visitors to GiftsForAllHolidays.com will find The Gingerbread Shop, which specializes in high-quality, deliciously edible gingerbread house kits, train kits, Hanukkah houses, and cookie kits. In addition, shoppers can select from pre-assembled houses or versions that already are constructed and fully decorated. The undecorated versions are expected to be extremely popular with parents and grandparents searching for fun, traditional activities to share with children during the Holidays and other times of the year.
"Gingerbread Houses are not just for Christmas anymore," says Pam Kent Dibella, owner of GiftsForAllHolidays.com. "The charm of a decorated house or wonderful memories created by assembling a gingerbread house kit can last a lifetime. A simple gingerbread house kit can be turned into a Haunted Halloween House or Western Dude Ranch. With a little imagination, a family tradition begins."
The site also offers many holiday gourmet gift baskets, business gift baskets, baby shower gift baskets, wedding gift baskets, and even dog gift baskets. The company has many years of experience offering Holiday gingerbread and continues to add new gingerbread food gifts to The Gingerbread Shop when it finds unique items that meet its high standards for quality.
"We at GiftsForAllHolidays.com pride ourselves on superior customer service," says Dibella. "We offer high-quality products with the variety that customers want. A customer's gingerbread house or any product we sell will arrive on time and in perfect condition, whether it's delivered locally or across the country, guaranteed."
The introduction of a complete selection of unique gingerbread houses and kits at GiftsForAllHolidays.com offers shoppers a versatile selection. Many shoppers at GiftsForAllHolidays.com find that Holiday gourmet gift baskets or decorated gingerbread houses are perfect for personal and corporate gift giving.
About GiftsForAllHolidays.com:
GiftsForAllHolidays.com is owned by Pam Kent Dibella. Dibella has 25 years of experience in sales and marketing. She created gingerbread house kits appearing in major catalogs, stores, and Home and Garden Television (HGTV) for several years prior to beginning her retail online store, featuring many manufacturers and introducing The Gingerbread Shop in 2006. For more information, visit GiftsForAllHolidays.com
###