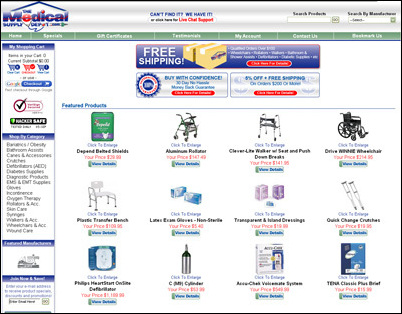 At TheMedicalSupplyDepot.com, we strive not only to merely meet our clients' expectations, but to exceed them
Brooklyn, NY (PRWEB) September 6, 2006 –
As the number of people living with diabetes and other medical conditions skyrockets, finding diabetic medical supplies and home health products has become more important than ever. The redesign of TheMedicalSupplyDepot.com addresses that need with the addition of live customer assistance and other features designed to make buying home health items a user-friendly experience. Shoppers who want to buy diabetic supplies or who have questions about any of the products offered can get real-time assistance via online chat with a helpful customer representative.
TheMedicalSupplyDepot.com offers the growing number of people who need home health supplies and equipment a convenient and secure source for discounted diabetic testing supplies, senior incontinence products, diabetic insulin supplies, walkers, bathroom safety assists, and other vital health items. The company also supplies EMS and EMT/Paramedic equipment to the largest ambulance corps in the nation, as well as health care supplies to physicians' offices and extended care facilities.
"At TheMedicalSupplyDepot.com, we strive not only to merely meet our clients' expectations, but to exceed them," says Meir Tsinman, President and owner of the company. "Customers are our highest priority and are always served with passion, expertise, and most importantly, sensitivity to their unique medical needs."
One of the best features of TheMedicalSupplyDepot.com is that each product includes detailed images and descriptions so that customers will know exactly what they are ordering. In addition, the prices to buy diabetic supplies and other products are up to 60% lower than typical retail prices. They also provide free shipping on all diabetic meters and most orders over $100.
"TheMedicalSupplyDepot.com offers over 25,000 home health care and durable medical equipment and supplies," says Tsinman. "We also have just expanded to a complete line of EMS supplies, including ALS and BLS. We pride ourselves on our selection, price, and service and offer one of the largest selection of diabetic, incontinence, and wound care supplies available on the Web. TheMedicalSupplyDepot.com is Your Online Home for Home Health Care Supplies!"
The redesigned site at TheMedicalSupplyDepot.com offers a simple and secure way for the country's aging population to buy discounted diabetic testing supplies and other items that are vital to home health care.
For more information, visit TheMedicalSupplyDepot.com.
About TheMedicalSupplyDepot.com:
TheMedicalSupplyDepot.com was founded by Meir and Goldie Tsinman. The company is based in Brooklyn, NY, and is one of the largest online supplier allowing customers to buy diabetic supplies and other home health products.
###